6 Tips to Help You Teach Your Kids to go Paddle Boarding
Table of Contents
1.Practice on Land First
2.Wear A PFD and SUP Leash
3.Teach Them in Calm Waters
4.Start Off Kneeling or Seated
5.Practice Standing Up and Teach Them Proper Techniques
6.Teach Your Kids Safe Way to Fall
7.
Choosing the right kids paddle board 
In a day and age filled with iPhone apps and video games, we're always looking for ways to get our kids to go outside and play. Stand up paddleboarding is a great activity for families to spend time together outdoor. Whether your child is athletically inclined or not, stand-up paddling can be enjoyed by children of all ages and the benefits are numerous.
Taking your kids, even toddlers, on outdoor adventures is vital to their health and will help contribute to their well-rounded growth to adulthood. For this to become a reality, you'll need to teach your kids to paddle board first. Here we have put together tips and ways to teach your kids paddle boarding.
Practice on Land First
Before setting off on their paddle board, it's best to set the board down on a flat area of grass and have them practice standing on it. Remember, this is a completely new feeling for them so it will take some practice to make them feel comfortable.
If your kids are old enough to go on a kids sup solo, you can use this time to show them how to properly hold their paddle and demonstrate the motions they will need to steer in different directions.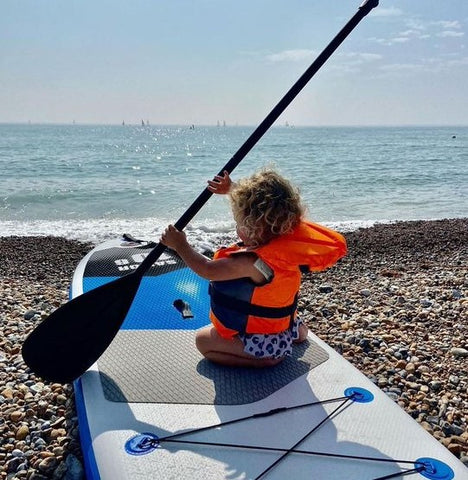 Wear A PFD and SUP Leash
Personal flotation devices are a must when paddle boarding or doing any water sports for both you and your kids. It can give your child extra safety when out on the water and can save your life in case of an emergency.
One of the most often overlooked pieces of safety equipment is the SUP leash. Make sure to strap your kid in, this keeps the current from separating your child from their board. The two tips can greatly help in preventing emergencies from turning into tragedies.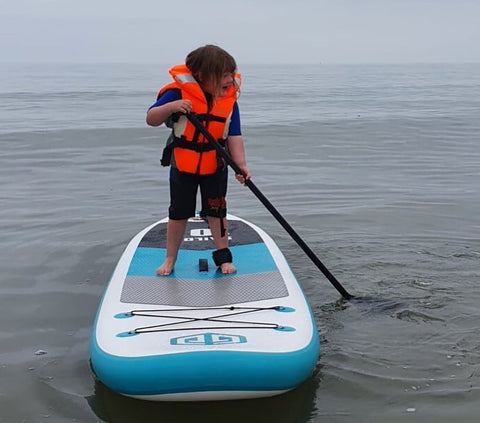 Teach Them in Calm Waters
When you teach your kids, it is ideal to choose a place with calmer waters and avoid places with strong waves or currents. This will not only help keep the board more stable but there will be less distractions as well. You need to give your kid the best chance to succeed.
If the waters are too choppy, your kid might get discouraged. Ideally, you'd like to find a spot where the waters won't be too crowded, and there aren't any boats. Do not let the child be intimidated at the beginning.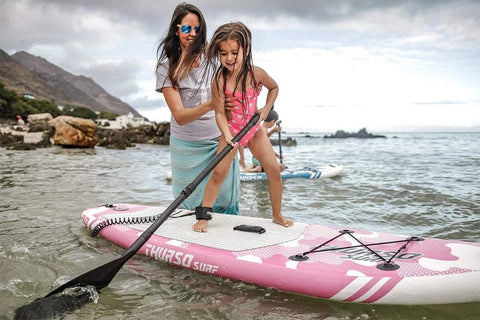 Start Off Kneeling or Seated
Before you toss your kids on a paddle board and head out of a long adventure, you'll want to be sure they're comfortable in the water and on the board. For the learning process, you must take the steps slowly with children.
For instance, instead of moving straight to a standing position, it would help to have your kid kneel or sit first. Finding balance while standing is a challenge. Kneeling gives them better balance and helps build confidence. Once they feel comfortable, they can practice getting up to a standing position.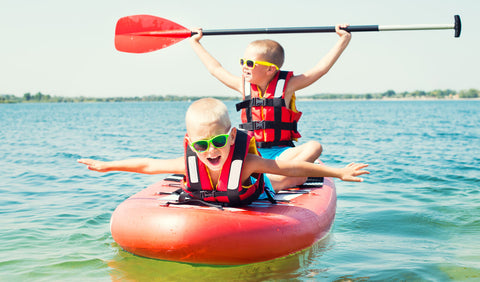 Practice Standing Up and Teach Them Proper Techniques
When the kids are comfortable on the stand up paddleboard, you can then have them begin to practice standing up. The key to paddling is making sure every stroke is done with your kid's top hand on the paddle and the blade facing forward. Have your kid hold the paddle with their lower hand just low enough to have leverage for an efficient stroke.
Let them know to paddle by rotating their torso, not by using their arms. Using the arms may be comfortable with the first few strokes but the child will get tired quickly. They also risk getting hurt. Instruct them to keep their arms straight and crunch slightly with every stroke to engage the core muscles.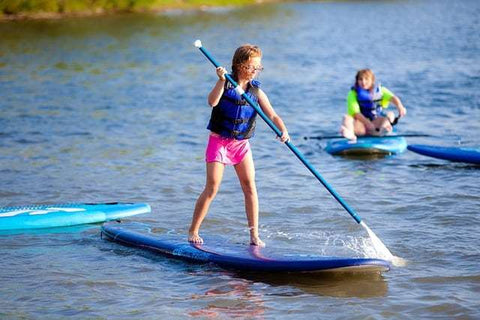 Teach Your Kids Safe Way to Fall 
This step is mainly for kids who are 5 years or older. Once comfortable with all the steps above, it's time to teach your kids the safe ways to fall on a paddle board. 
When your kids lose balance on the paddle board, make sure that they fall into the water and not onto the board, as falling onto the board is more likely to cause an injury.
Teaching your kids don't dive forwards or backwards as they might hit their SUP, try to fall to the sides and keep the paddle forwards so they don't get hurt with it.
Choosing the right paddle board for you kids
In order to allow your child to experience the fun of paddle board sports independently, you can choose a stand-up paddle board specially designed for children. Here we put together the reviews of the 5 best kids paddle boards in the world, for more informations ,please check it out.
---