8 Best Paddle Board Fishing Accessories
Table of Contents
1. Fishing Rod Holder
2. Fishing Cooler
3. SUP Anchor
4. Landing Net
5. Sun Hat and Sunglasses
6. Dry Bag
7. PFD
8. Leashes
We like to say "Life's Better Outside" and fishing is certainly one way to enjoy life outside – with friends and family or even if you're flying solo. What if we told you that there was a new and better way to enjoy fishing? Nowadays, fishing off a paddle board becomes their favorite way to fish for more and more anglers.
But like every other fishing adventure, you'll need the right gear. What should you bring on your paddle board fishing trip? Don't worry, you've come to the right place! Today's fishing paddle boards are coming decked out with everything you need for your day out on the water.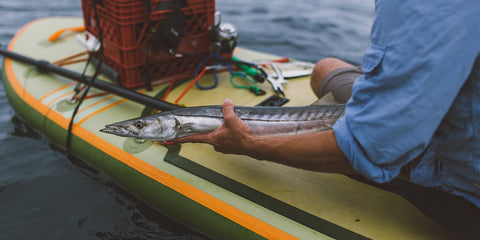 Fishing Rod Holder
You need both hands to paddle and you will also want to free your hands so you can have a snack and relax. These holders are a great way to keep your rod secure, such as prevent your gear from ending up on the bottom of the lake or ocean. It will rotate 360 degrees vertically and horizontally and has a locking mechanism.
There are inflatable paddle boards that are made for fishing and come with rod holders. But the good news is that you can add rod holders to your existing inflatable.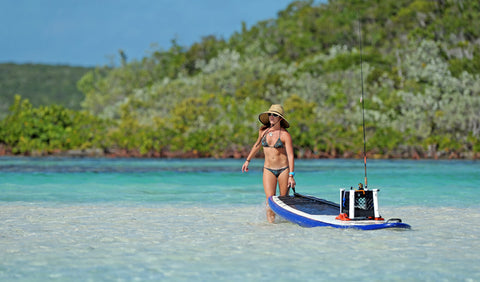 Fishing Cooler
A SUP cooler ensures that you have a nice cool drink to quench your thirst all day long. Plus, it's where you will store your fish as well. In addition to acts as a storage space for your gear and potential catch, the solid variety can double up as a seat. Having a cooler to sit on helps lower your center of gravity, when you reach down to grab a fish. You also can alternate sitting and standing so you don't get too tired.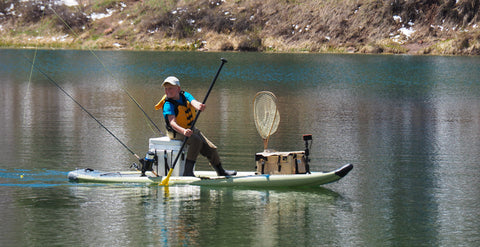 SUP Anchor
You have to get a SUP fishing anchor if you want your SUP fishing trip to be a success. If targeting fish in a weed bed, an anchor can prevent your paddle board from repeatedly drifting in the wind. If jigging with a bobber, an anchor can keep your line on the bottom.
The best paddle board anchors will store easily in a bag so it won't scratch your board and can secure under SUP bungees when not in use. Attach the anchor to a D-ring when launched and tie off the extra line with your favorite knot.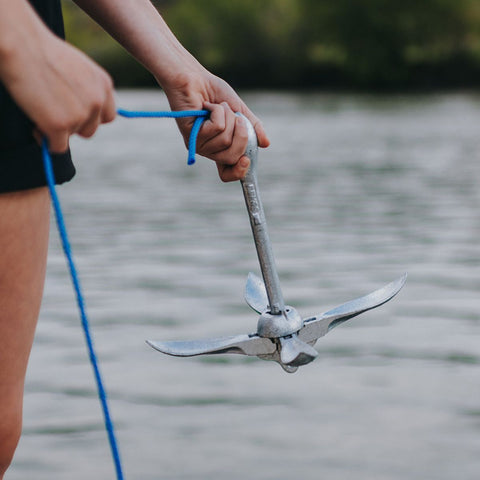 Landing Net
A landing net is necessary especially when you catching a big fish. You know, getting your fish onto the paddle board without incident can be tricky. Without a landing net, it's likely end up back into the water if you're not careful.
A landing-net with an adjustable handle is recommended to avoid leaning over your SUP. In addition, you can extend the handle to scoop up your catch when it reaches the edge of the paddle board. A retractable paddle pole can help you fold it better as well.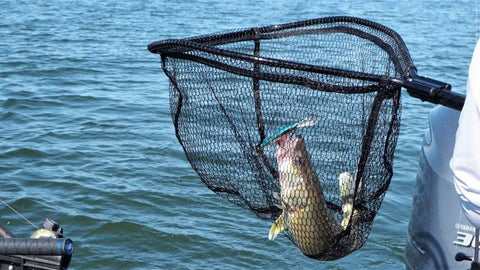 Sun Hat and Sunglasses
Protection from the sun's harmful UV rays is very important, especially when you are on the water for a long time. The last thing you want is to end up with a painful sunburn after your fishing trip. So don't forget to bring your sun hat. Generally, sun hat has a wide brim and will protect both your face and neck.
In addition to protecting your skin from the sun, you need to protect your eyes too. The sun's glare can ruin your paddle board fishing experience by hindering your vision and causing eye strain. A pair of polarized sunglasses can offer you UV protection and clearer vision.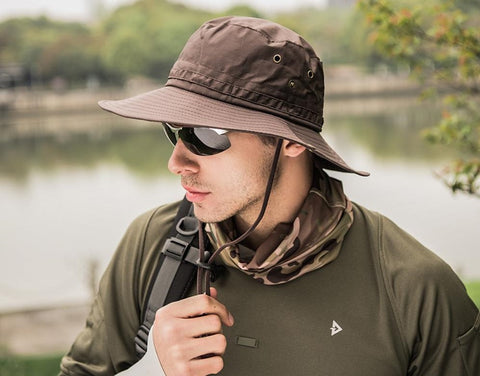 Dry Bag
Do you want to bring you valuable possessions with you on the water? Perhaps your phone, keys, camera, or even clothes? This is one that would be in the must have section if it weren't so easy to find a solution. Dry bags are watertight and can float, meaning you will never lose your keys or phone to the water or wet other things when fishing or paddle boarding. Goosehill's dry bag come in different colors and have adjustable shoulder straps to fit anyone across the body.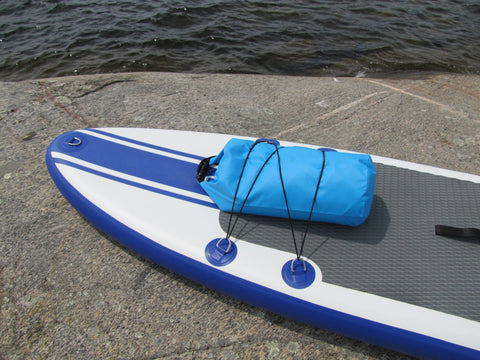 Leashes
A paddle board leash allows you to be connected to your board in any scenario, and can function as a passive safety device in rough conditions. Leash is definitely one of these must-have paddle board accessories for your safety.
In addition to securing your ankle with a leash and bungee-cording your gear to your board, don't forget to secure your paddle. Imagine that somehow your paddle went overboard and you lost it. Not a good thought. This leash can secure your paddle, fishing rod or anything else you want on the deck of your paddle board.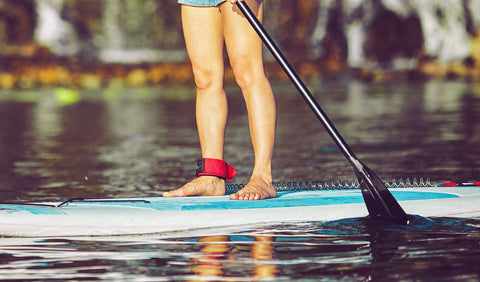 PFD
Like a leash, a PFD is also an essential accessory that you should never go padding without. Having a life vest can protect you in rough conditions. After all, anything can happen out there even in calm water. If you don't like the feel of a regular PFD, consider getting one that goes around your waist and can be inflated by pulling a string. In a word, safety-of-life always comes first. This is definitely the ultimate security measure to keep you safe in the water.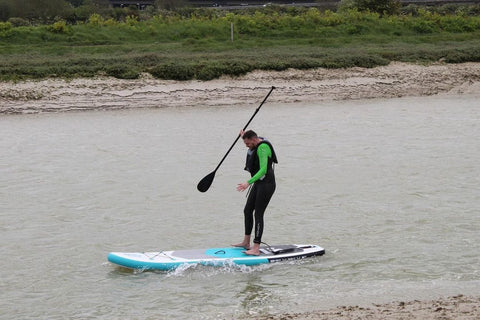 ---