A Paddle Board Camping Guide for Beginners
Table of Contents
1. How to Pick Your Camping Destination
2. Best SUP Type for Camping
3. Packing for Your Camping Trip
4. Tips for a Successful Camping Trip
Canoe and kayak camping have been around for a long time. Paddle board camping offers a unique spin on those more traditional camping styles. It provides an opportunity for your family to get away from busy schedule, look up from their screens and reconnect with nature.
You will be surprised that so many wonderful things are gathered together, camping in a quiet place, enjoying the gentle water and roaming between different shores. In this article you'll find information on the logistics of paddle board camping and how to go about it if you've never done it before. Tie your luggage to the paddle board and start exploring!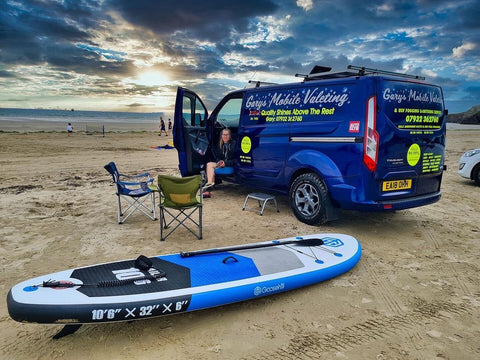 How to Pick Your Camping Destination
When you plan your camping trip, the first thing to do is to choose your destination. We recommend beginner SUP campers take it easy for the first trip. It's easy to find good conditions on lakes, especially smaller ones, moving on to river exploration once you're more experienced.
If you're going to SUP camp on an ocean coast rather than lake, you'll need to look into surf conditions and beware of currents and tides as well. Find a good map that shows what kind of public lands you can camp on, or find an established campground as your destination.
Make sure it's discreet, don't stay on private land and avoid narrow river valleys in case of flooding. Remember to map out your route and be respectful of the great outdoors. But most importantly, enjoy your night sleeping under the stars in nature!
Best SUP Type for Camping
So now that you have a camping destination, let's talk about how you are going to get there. Choosing the right paddle board for your trip can be critical depending on the waters you are paddling and the length of the trip. Most touring paddle boards would be great for camping, like Goosehill's sailor touring SUP.
The board you choose is the only one you can rely on on on the water, so this board must be large enough to easily load you and all your gear. You also want a paddle board that is stable so you don't have to work to keep your balance. Ideally, you need a width of over 31". But know that the wider a board is, the slower it is likely to be on the water.
Longer boards are easier to paddle, gaining more speed on flat water. This is a blessing if you're tackling long distances. The best length is between 11'6" and 12'6". Extra D-rings will allow you to attach a kayak seat and other stuff. It would also be nice to have mounts for an action camera, cup holder, or fishing gear.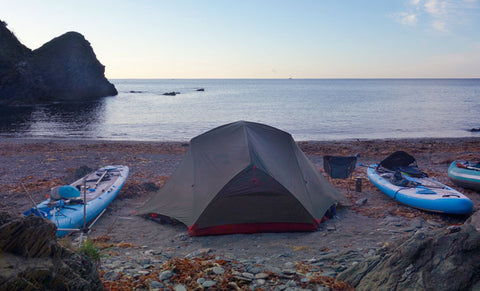 Packing for Your Camping Trip
You are not on a big ship, the space of the paddle is limited. There's no set way to pack for a SUP camping trip, and of course everyone has different things they like to take. Let us make your life easier with a few helpful reminders on gear you will need to pack to make your SUP camping trip epic.
SUP Gear:
paddle board: you will need the SUP to transport you to and from the campsite
Paddle(and extra paddle): If for some strange reason you should lose your paddle or if it gets damaged you will be glad you brought an extra
Leash: it is a safety accessory that keeps you attached to SUP
Personal flotation device: it can protect you in rough conditions
Pump: don't forget it if using an inflatable SUP
Dry bags: dry bags are watertight and can float, meaning you will never lose your keys or phone to the water or wet other things when paddle boarding.
Cooler: you can safely store drinks and food for you day out on the water.
Repair kit: you should learn board repair just in case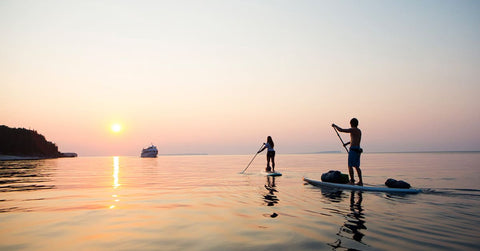 Camping Gear:
Sleeping bag
Clothes
Sandals or water shoes
Sunscreen
Food and water
Tent
Map or GPS for navigation
Flares and matches(kept in a dry bag)
First aid kit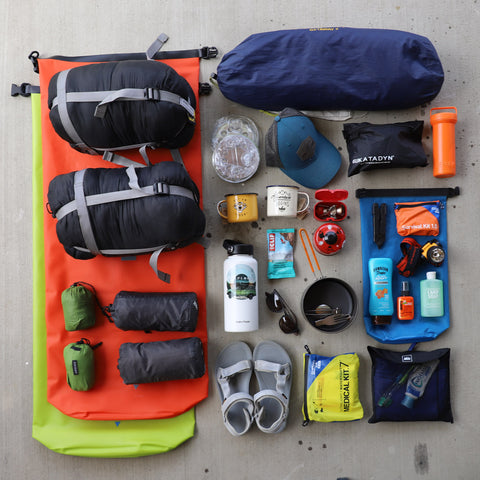 Tips for a Successful Camping Trip
Check the weather: We can't emphasize this enough. Different weather conditions can make your camping trip fun, difficult, or dangerous. There are certain types of bad weather can make your trip mega challenging and potentially dangerous. So before you head out into the eye of a oncoming storm, be sure to check what weather you are likely to encounter and what is on its way.
Safety first: No matter when and where, safety comes first. Always wear your PFD and use an ankle leash to secure yourself to your board. In addition, make a detailed plan and come up with a plan B,you have to be prepared for different possible scenarios. Give it to your family or friends before departure, and inform them whenever you change your plan.
Pack light: You only have so much cargo room and you don't want any unnecessary weight. Actually, there's a fine line between packing minimally and being ill-prepared. Use the packing list to identify multi-use items to eliminate redundancy. It also helps to prioritize items and makes it easier to spot where to cut down weight and volume.
Start with short trips: Don't go out on a 14 day expedition on your first SUP camping trip. Start small—calm water and a short paddling distance. Regardless of how many guides you read, personal experience will teach you more valuable lessons. You'll learn so much on your first trip that you can then apply to longer and bigger future trips.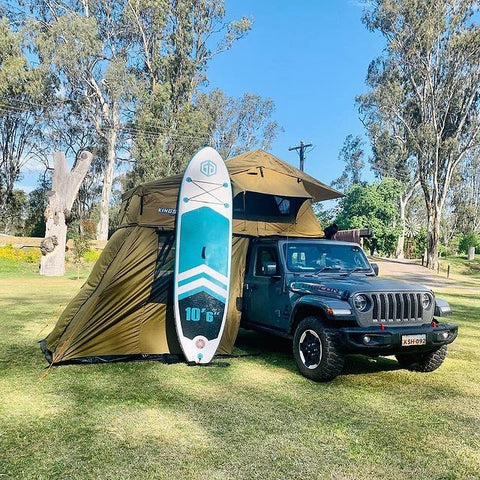 ---