Stand Up Paddle Boarding Yoga Basics - Best Yoga SUPs Review
Table of Contents
1. What is SUP Yoga
2. Benefits of SUP Yoga
3. 7 Simple Poses for SUP Yoga
4. Five Best Stand Up Paddle Boards for Yoga
If you've got access to a paddle and would like to have a perfect stretch to de-stress, you should combine paddleboarding with yoga. Paddle board yoga is the ultimate yoga experience. We've witnessed it grow in popularity in more recent years. 
Doing yoga on a paddle board is not as hard as it looks and it even offers opportunities that a land-based practice doesn't. Just imagine yourself doing yoga on a mat that is floating like a magic carpet.
The meditative calm of the water and the tranquillity of nature all around you can bring you to the pinnacle of your transcendent yoga journey. Before you start, though, you need to understand as much as possible about SUP yoga so that you can enter a dynamic new phase of fitness.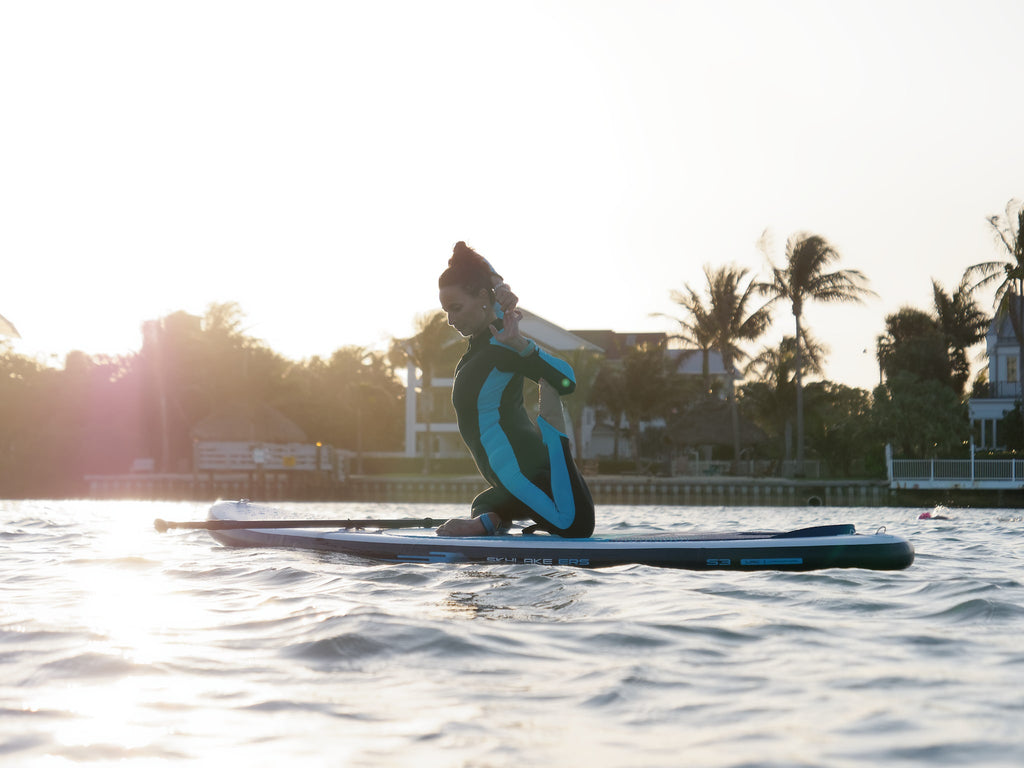 What is SUP Yoga
Just as its name implies, stand-up paddle board yoga is a combination of paddleboarding and yoga in one. Essentially, it is practicing yoga on a stand up paddle board in the middle of a body of water. SUP yoga is best practiced on calm bodies of water like lakes, bays, or harbors.
SUP yoga is designed to challenge your strength and balance as you float across the water. It has gained popularity as an effective way for people who are recovering from injuries or people who are looking for a new way to exercise.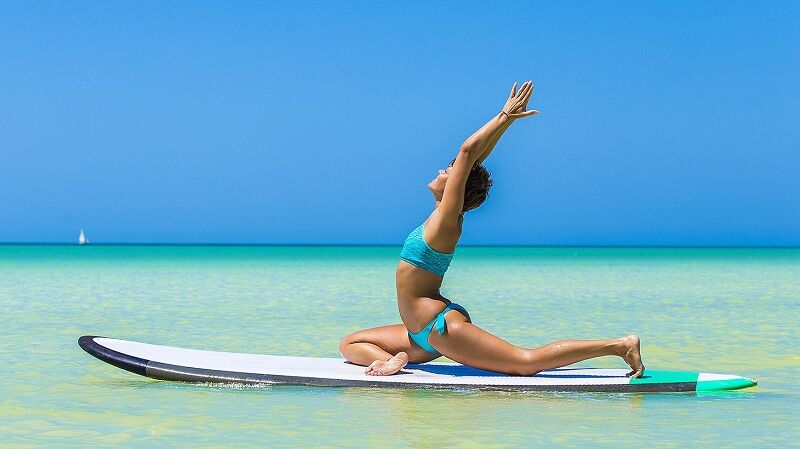 Benefits of SUP Yoga
(a) Improves balance: Both stand up paddle boarding and yoga are known for improving balance. SUP yoga helps you develop your core strength by challenging your body to a new level, forcing it to work extra harder to help you maintain your balance. If you work at SUP yoga consistently, you're going to see incredible strides in your balance!

(b) Reduce stress: The link between yoga and stress reduction is clear. Having masses of water beneath you while switching yoga moves helps you to destress and find deep-rooted peace. In addition, being outdoors is proven to help reduce stress -- just looking at views of the ocean or a mountain lake can ease your worries!

(c) Engages new muscles: Practicing yoga on a paddle board will challenge all of your muscles. As it is a completely new form of cross training, this action will cause you to work muscles you didn't know you had. SUP yoga forces you to stabilize multiple muscle groups at one time in order to keep you balanced.

(d) Refine your land yoga skills: If yoga is something that you enjoy and you want to continue to improve your techniques, you should take it to the water. After you have mastered some yoga moves on a paddle board, even the most advanced yoga moves on dry land may seem far less challenging. SUP yoga will improve your land practice and refine all your techniques.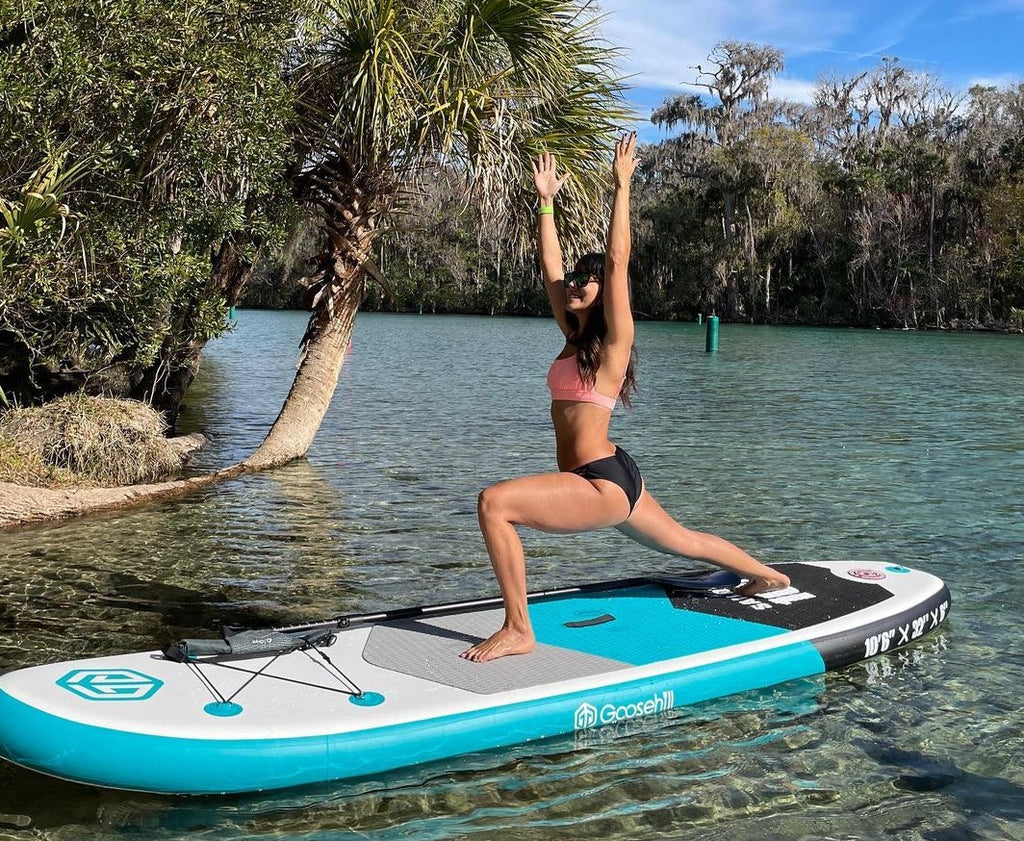 7 simple yoga poses
(1)Easy Seated Pose
Facing the front of the board, sit with your hips on the handle, let your hands rest gently on your knees, and then do deep belly breathing.
(2)Downward-Facing Dog
Slowly send your hips up and back, straightening your legs. Gaze at the horizon behind you. Take a few breaths and use organic movements to get comfortable with the pose. Be sure to press down hard on your index fingers and thumbs to protect your wrists.
(3)Cobra or Upward-Facing Dog
For the cobra, lie prone, place your abdomen on the handles and place your hands under your shoulders, pulling your elbows toward each other. Inhale and lift your head, shoulders and chest. For the Upward Facing Dog, place your hands further back, near the rib cage. Raise your torso while pressing your hands into the board. If possible, engage all four limbs to lift your knees off the plank.
(4)Low Lunge Variations
Starting in downward dog, with your hips on the handles, bring your right foot forward and allow your hands to frame your foot. Before your hands go to your knees or thighs, look toward the horizon to get your balance. Then extend both arms to the sky or add a twist by placing your left palm on the board and lifting your right arm to the sky. Switch sides.
(5)Wide Leg Standing Forward Fold
Starting from a low stance, place both hands on the inside of your front knees and walk to the bar (side of the board). As you rotate onto the ball mound of both feet, apply even pressure with your hands and lower your heels toward the opposite side of the bar. Hands and feet should be the same distance apart as you would be on land: hands under your shoulders, legs wider than your hips, and toes slightly turned in.
(6)Modified or Half Camel
Kneel around the handle of the board and support your lower back with your hands before moving into camel pose. The instability of the water can be more challenging, so start with your toes tucked in, or explore a gentler kneeling backbend by placing one hand behind you, lifting your hips and sweeping your other arm over your head. Switch sides.
(7)Bridge Pose
Starting from your back, place your sacrum on the handle, bend your knees and place the soles of your feet on the board so that your fingertips can brush your heels. Keep your feet slightly wider than hip-width apart. Raise your hips toward the sky and bind your arms underneath to find more height.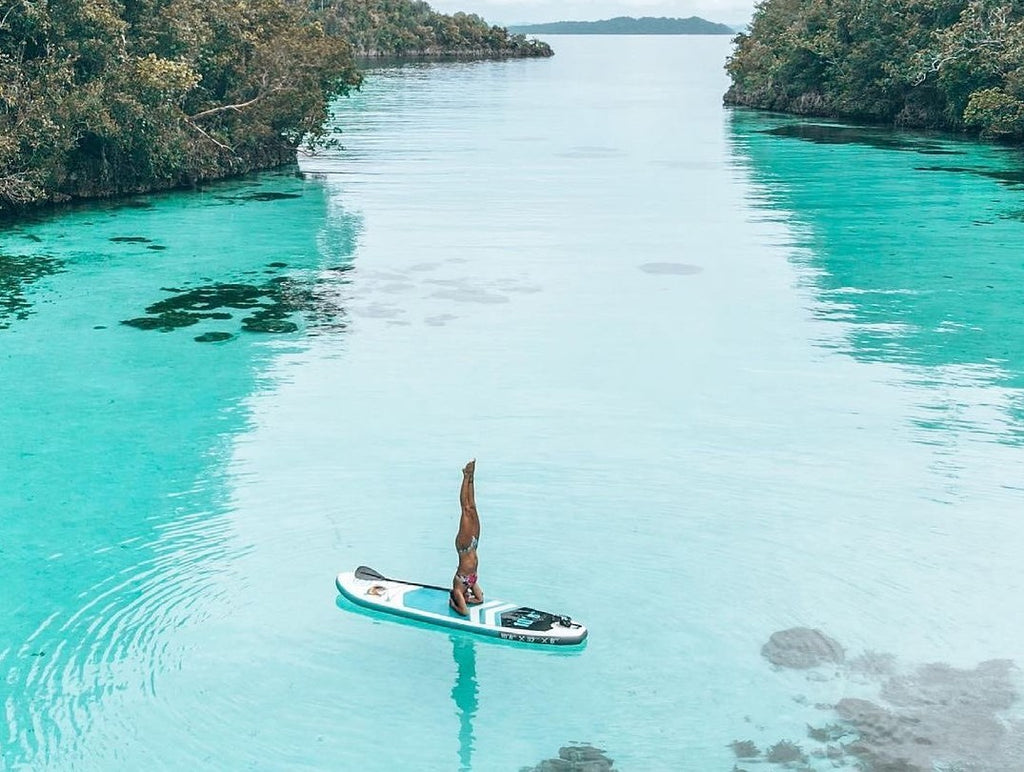 5 Best Stand Up Paddle Boards For Yoga
1.Goosehill Sailor Yoga SUP
Features
Board specs - Size: 10'6'' × 32'' × 6'', Max Payload: 440LBS / 200KG.
Why Choose Goosehill -

 

Ultra-lightweight, Durable, Stiff and Stable. A perfect SUP for recreational paddling and beginners.
What's in the Package - A Sailor SUP board, a 3-piece adjustable paddle, a pump, a backpack, a SUP leash, a center fin, and a repair kit.
3-Year Warranty.
Free Global Shipping.

A cleaner and simpler design with fewer numbers and letters on the deck pad and the rail.

Updated front cargo tie-down system with one more set of criss-crossed bungee cords.

4 new D-rings on the deck pad for attaching a kayak seat and other SUP gear.

9 brand-new color options to suit the needs of different paddlers.
Yoga SUP package
3-piece adjustable sup paddle
sup hand pump
backpack
SUP leash
removable center fin
repair kit
kayak seat.
2.VINPATIO 10'6"x 32"x 6" Stand Up Paddleboard
Features
| | |
| --- | --- |
| Item Package Dimensions L x W x H | ‎34.65 x 14.96 x 9.84 inches |
| Package Weight | ‎15.29 Kilograms |
| Brand Name | ‎VINPATIO |
| Warranty Description | ‎1 year |
| Model Name | ‎Wave |
| Color | ‎Wave |
| Material | ‎PVC |
| Suggested Users | ‎Mens, Womens |
| Manufacturer | ‎VINPATIO |
| Style | ‎Wave |
| Included Components | ‎Fin,ankle leash,paddle,pump |
| Size | ‎10'6"X32"X6" |
| Sport Type | ‎SUP Paddling, Kayaking, Surfing |
| Skill Level | ‎All |
3.Retrospec Weekender-Yogi 10' Extra Wide Inflatable SUP
Features
| | |
| --- | --- |
| Item Package Dimensions L x W x H | ‎35 x 16 x 9 inches |
| Package Weight | ‎12.88 Kilograms |
| Brand Name | ‎Retrospec |
| Warranty Description | ‎Limited Warranty |
| Model Name | ‎Retrospec Weekender-Yogi 10' |
| Color | ‎Blue Lagoon |
| Material | ‎PVC |
| Suggested Users | ‎Unisex-adult |
| Manufacturer | ‎Retrospec |
| Part Number | ‎4016 |
| Included Components | ‎Paddleboard;Pump;Fins;Paddle,Bag |
| Size | ‎10' |
| Sport Type | ‎SUP Paddling |
4.Driftsun Inflatable Stand Up Paddle Board - 11ft x 34in
Features
| | |
| --- | --- |
| Item Package Dimensions L x W x H | ‎39.1 x 16.3 x 13.4 inches |
| Package Weight | ‎17.65 Kilograms |
| Item Weight | ‎28 Pounds |
| Brand Name | ‎Driftsun |
| Warranty Description | ‎All Driftsun Paddleboards come with a 1 year guarantee return warranty on materials, workmanship, and assembly |
| Model Name | ‎Balance |
| Color | ‎Pink / Blue |
| Material | ‎PVC |
| Suggested Users | ‎Unisex-adult |
| Manufacturer | ‎Driftsun |
| Part Number | ‎DS-ISUP-BLL2 |
| Included Components | ‎3 Piece Adjustable Paddle, Inflatable Paddleboard, Removable Fin, Double Action Pump, Ankle Leash |
| Sport Type | ‎Paddleboarding |
| Skill Level | ‎All |
5.THURSO SURF Tranquility Yoga Inflatable Stand Up Paddle Board
Features
| | |
| --- | --- |
| Item Package Dimensions L x W x H | ‎38.98 x 18.11 x 13.78 inches |
| Package Weight | ‎23.02 Kilograms |
| Brand Name | ‎THURSO SURF |
| Material | ‎Aluminum, Fiberglass, Polyvinyl Chloride |
| Manufacturer | ‎THURSO SURF |
| Part Number | ‎TS19-SUP-TR-128 |
| Sport Type | ‎SUP Paddling |
| Skill Level | ‎All |
---