Best Inflatable Touring Paddle Boards 2022
Touring paddle boards have always been popular with outdoor enthusiasts. They are usually longer, faster, and more suited to adventures compared to all-around boards. There are many nice touring paddleboards on the market to choose from. If you are looking to find a nice touring paddleboard for your next adventure, check out our top 5 touring paddle boards in 2022.
1. 
Thurso Surf Expedition 150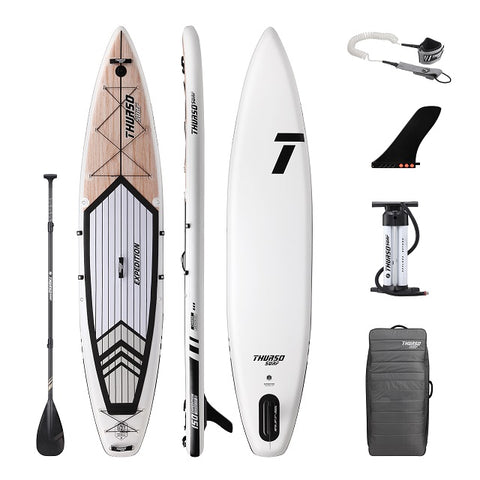 At 31'' wide, the Thurso Surf Expedition 150 is rather narrow compared to other touring paddle boards on the list. But it's still able to provide you with enough storage space. It features a single-fin setup which aids in speed and glide. The board has a sturdy construction and is able to accommodate heavier paddlers.
You will find a 6-point cargo storage system at the nose of the board and another 4-point cargo area at the tail. The board isn't small per se, so it features 3 carry handles to make it easier for paddlers to carry them around. It also has one paddle holder on each side for securing your paddle when needed. There are also D-rings that allow you to attach a kayak seat to the board. At the tail there's also a raised kick pad that will come in handy when you need to take a turn.
The package includes everything that you'll need to get out on the water. Accesories you will find in the package include a center fin for US fin boxes, a triple-action pump, a 10' coiled leash and a 3-piece adjustable carbon shaft paddle.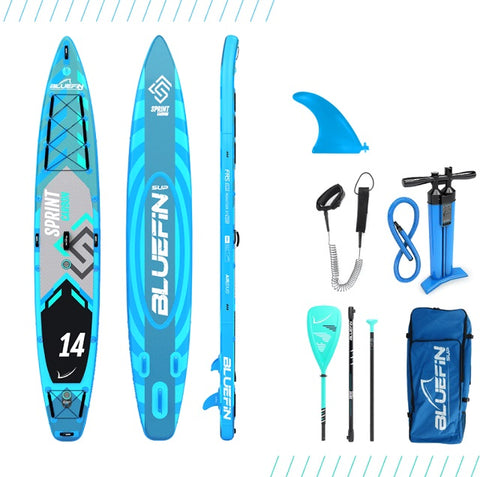 The Bluefin Sprint Carbon 14' is a high-end touring board with a lot of safety and performance-oriented features like the dual-inflation chambers and carbon rails.
With carbon fiber rails, a pointed nose and square tail, you can count on it offering excellent glide and speed. And the board also has two separate inflation chambers, both of which can keep the  board afloat without the other one. It's a safety feature that makes sure you can have something to hold on to when the board gets punctured by accident on the water. The carbon-reinforced rails help to increase stiffness of the board and enhance its performance in touring and racing. Thanks to the carbon rails, users can enjoy the convenience of an inflatable SUP and the performance of a hardboard with the Bluefin Sprint Carbon 14'.
The huge cargo space in the front and back should be enough for multi-day trips on the water. There are also D-rings around the center area of the board for kayak seats and other attachments.
The accessories included are as follow: a large sturdy backpack, a triple-action pump, 3 removable fins, a 3-piece carbon shaft paddle with a polyurethane blade, a coiled leash and a waterproof phone case.
At around $900, it's a pretty decent choice for those who enjoy long-distance tours on the water.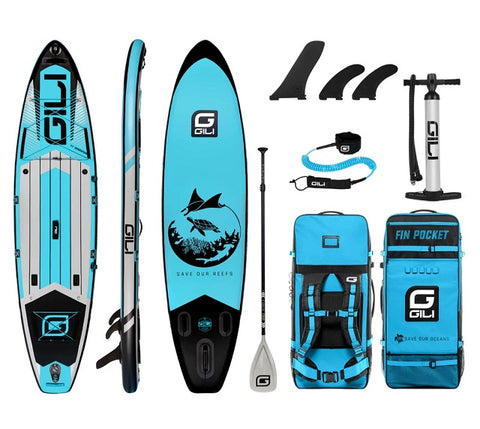 For those who are shooting for a touring board with limited budget, Gili 12' Adventure is a nice option. At 32'' wide, it's stable enough for beginners to have a smooth ride. It won't be as fast as other touring boards with a narrower body and pointier nose, but it's still able to slice through the water with ease and track well.
The board is also rich in adventure focused features. The 3 carrying handles make carrying the board easier and it also has cargo space in both the nose and tail of the board. The 4 D-rings around the center of the board allow you to attach a kayak seat to it. Other features include a paddle holder, 3 action mounts, scotty mounts for fishing equipment and a raised kick-pad to help you do step-back turns more easily. The grooved deck pad offers excellent grip and is comfortable to stand on.
The accessory kit has everything you need for your SUP session. In the kit you'll find a double-action pump, a 10' coiled leash, a large backpack that fits everything in easily, 3 snap lock fins and a high-quality 3-piece adjustable fiberglass paddle. We'd prefer a full carbonfiber paddle, but consider the price, it's an acceptable compromise.
The Gili 12' Adventure is a nice versatile touring board that excels not only at touring but also many other aspects. If you are looking for a touring board with all-round performance, this board is one of the best options to go with.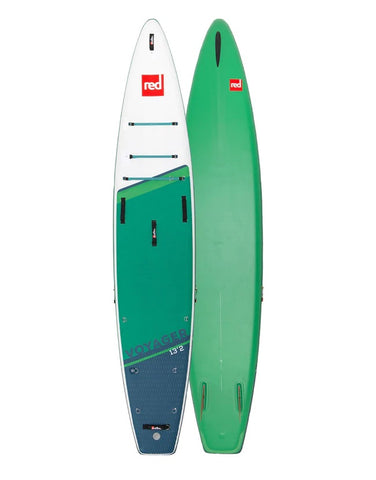 The RedPaddle Co. Voyager 13'2'' is the company's flagship touring board. 13'2 isn't a very common size for touring paddle boards, which is a bold choice for a high-end board. Like other top-notch boards from the company, the Voyager uses MSL(Monocoque Structural Laminate) material to make it stiff and keep the weight at a level that most people can carry it with ease. Additionally, they also throw in their own RSS(Red Stiffening System) removable fiberglass battens to further increase the stiffness of the board.
The Red Voyager has a special V-hull at the front which allows the board to cut through water more smoothly. The two fin setup further improves the board's tracking. On the nose there are three elastic-band cargo straps for fastening your belongings and several D-rings for attaching kayak seats and other attachments.
At around $1800, it's the most expensive touring paddle board on our list. There are some high-end features to match that prize. If you want a touring SUP board with the best quality on the market, the Red Voyager 13'2 is your best bet.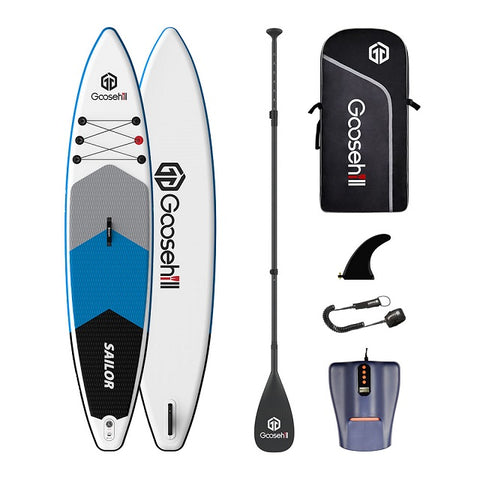 If you are looking for a quality touring paddle board with limited budget, Goosehill Sailor Touring is worth considering. At around $700, you get a board with a classic design and decent quality. Not to mention it comes with some high-quality accessories like an electric pump and a full carbonfiber paddle, which is very rare in this price range.
Being the cheapest one on the list doesn't mean it's of poor quality. Actually, the Goosehill Sailor Touring excels at many aspects. With the utilization of Goosehill's SCE technology, the Sailor Touring is very stiff when inflated and light enough for most paddlers to carry it around comfortably. The pointy nose and small rounded tail ensure that the board can slice through water efficiently. And at 31''/32'' wide, it's stable enough for multiple passengers. A small problem with the cargo space is that it seem a bit too small for holding gears for long-distance SUP trips and there's no cargo space at the tail. But it won't be a problem for those who want to keep their burden to a minimum on their trip.
It's a great board that won't break your bank and can satisfy all your needs for a SUP tour. It's hard to find a better option than the Goosehill Sailor Touring at the same price point.
---