Best Inflatable Touring Paddle Boards 2023
Exploring a place from above the water is one of the most fun adventures you can have. And
touring paddle boards
are most suited to exploration and long-distance paddling. Choices of touring paddle boards are abundant and some might have a hard time trying to decide which touring SUP board to get. So we picked out some of the highest quality touring paddle boards on the market for those looking to buy a touring paddle board and have an unforgettable adventure on the water.
RedPaddleCo 12'6''Sport
The RedPaddleCo 12'6'' Sport is a high-end touring paddle board with top-of-the-class performance, which is no surprise given the price of the board. It has excellent speed and tracking and is lighter than its competitors. It's a fabulous choice for those who paddles alone most of the time because this board's capacity is a bit low at 330 LBS which is probably due to its light weight. But the light weight does make carrying the board a piece of cake for most paddlers.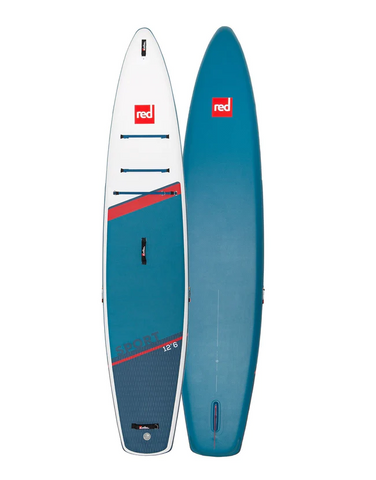 You'll find a high-quality rolling bag in the package that has a place for everything. The included Titan pump allows you to easily inflate and use the board.
The board is designed with efficiency in mind. At 30'' wide and 12'6'' long, the board can slice through the water smoothly, making it the ideal choice for long-distance touring. It can easily build up your speed and maintain it just as well.
If you are looking for a dependable touring board that can take you anywhere and have the best touring experience, the RedPaddleCo 12'6'' Sport is one of the best option you can go with.
Aqua Marina Hyper Touring
The latest model of the Aqua Marina Hyper Touring has some significant upgrades over the old model, making it even better for long-distance touring. The 12'6 Hyper Touring features two chambers. An inner chamber and an outer chamber, mixed with multiple rail bands for construction reinforcement and added durability and strength.
In the package you will find a large bag that fits everything in, a double-action pump, a coiled leash, and a touring style fin. It doesn't have a paddle in the package, it's probably because they consider buyers of this board to be mostly experienced paddlers and have their own paddle to use.
It has a large bungee space with six tie-down points on the nose and a smaller one with 4 tie-down points at the tail. The deck pad has diamond pattern with a crocodile skin for better grip and comfort.
The pointy nose gives the board excellent speed and glide and the rounded tail provides added maneuverability. The 12'6'' model is at 32'' wide, which is more than enough to provide you with a stable ride, even the 11'6'' model is at 31'' wide and very stable in choppier conditions.
The Aqua Marina Hyper Touring is a pretty round-up choice as a touring paddle board, if you can't decide which touring paddle board to get, you can't go wrong with this one.
Nixy Manhattan G4
If you give priority to speed and efficiency, the Nixy Manhattan is a great board for you. At 12'6 long and 28'' wide, it's super fast on the water and can maintain the forward momentum easily. Since it's narrower than the average boards in this class, you can expect it to be a bit harder to balance on. That being said, it's not a board for taller or heavier paddlers, but it will serve smaller or intermediate to advanced paddlers well.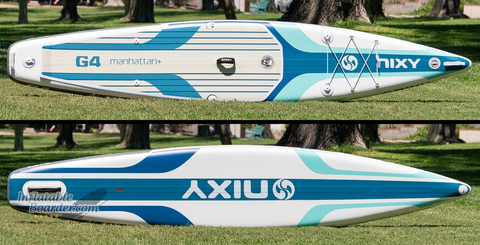 The Nixy Manhattan is rich in features. You will find a total of 3 handles on the board, one at the nose, one at the tail and one regular center handle. The 6-point cargo area is large and easy to access from the deck pad. The grooved deck pad is comfortable to stand on and very grippy.
As usual, it has all the accessories you need to get out on the water. Included in the package is a triple-action pump, a 3-piece carbon hybrid paddle, a FCS center fin, a coiled leash, and a large backpack with wheels and plenty of compartments for smaller items.
It's a nice board for advanced paddlers who are interested in and might move on to racing as well as beginners who want to challenge themselves and develop their skills.  
Sic Maui Okeanos Air
This is a well-designed board full of thoughful details. The combination of colors is brilliant and appeals to both men and women. The tail of the board doesn't taper very much, which makes the board more stable and suited to more SUP activities other than touring. You will find cargo tie-down points at both the front and back of the board. Most touring SUPs have only one large center fin, but the Sic Maui Okeanos Air uses a 3-fin setup. This might cause drag and decrease the speed of the board, but it also gives the board higher stability and better tracking.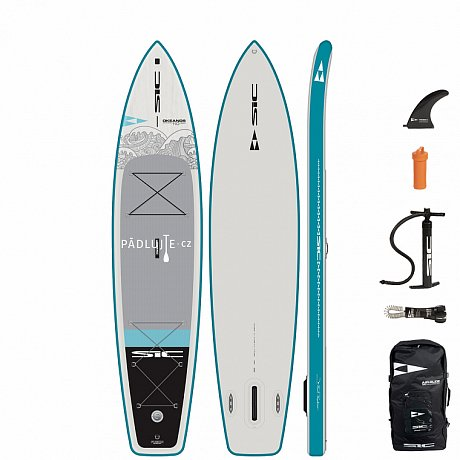 Included in the package is a high-quality wheelie backpack, a double-action pump, a leash with a small pocket, a repair kit and a 9'' weedless nylon fin. Note that it doesn't come with a paddle, so if you don't have one already, you'll have to get one separately.
This board provides decent performance in most aspects and is suitable for all skill levels. The all-around performance combined with the high quality, this board is undoubtedly a strong contender for the best touring SUP in 2023.
Goosehill Sailor Touring
The Goosehill Sailor Touring is one of the cheapest touring paddle boards you can buy on the market that are able to offer decent performance on the water. It has two size options, 11'6''*31''*6'', and 12'6''*32''*6'', both are well suited to long-distance touring. The larger 12'6 model is wider, making it more stable and more suited to beginner paddlers and those who prioritize stability over performance.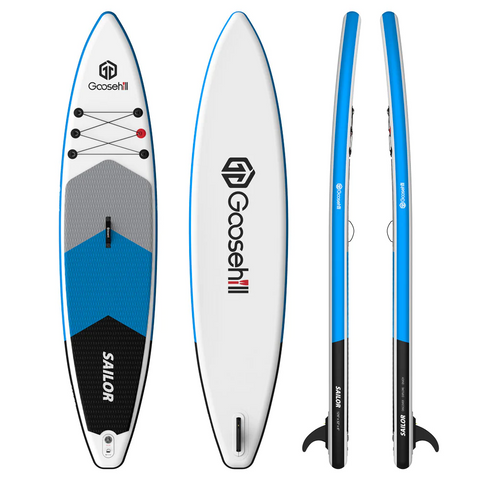 The diamond grooved deck pad is very grippy and able to keep you comfortable for the whole ride. The center handle is large and soft and makes carrying it easy for the paddler. But the lack of carrying handles at the front and back might make carrying the board a bit harder under certain circumstances. And like every other touring boards on the list, it has a standard 6-point cargo tie-down system at the front, but it's a bit smaller than what you will find on other boards and a bit far from the center of the board, making it harder for smaller paddlers to reach the gear when standing or sitting on the center of the board.
When it comes to accessories, Goosehill really knocks it out of the park. Not only is it the cheapest model on our list, but it's also the only one that has an electric pump. It even gives you a high-quality full carbon-fiber paddle, which is rare in this price range. The backpack is large and can fit everything in easily, but the drawback is that doesn't have any compartments for storing smaller items except for the two side pockets. Overall, some of these accessories are extraordinary and will significantly improve your touring experience.
It's an exceptional choice for those with limited budget. For less than $700, you get a stable touring board with decent performance on the water and probably the best accessories you can find at this price point.
Conclusion
Every touring board has its own pros and cons, you can easily choose one according to your needs. If you haven't has the chance or time to try paddle boarding, it's never too late to start.
---