Custom Paddle Boards - Why Should You Consider Getting One?
Stand up paddle boarding is now one of the most popular water sports in the world. Exploring rivers and lakes are one of the most fun adventures you can have on the water. With a stand up paddle board, you are opening yourself to endless possitilities.
How can you stand out from a crowd of paddlers?
There are many SUP brands on the market offering high-quality boards with an outstanding design, but they are all mass-produced and far from unique. To set yourself apart from the crowd of SUP riders, you need a custom-made paddle board.
You might be able to find a shop offering hand-made wood paddle boards, but this kind of shops wouldn't be as common as a store that sells ordinary paddle boards. And there really aren't that much changes in design you can make on the board.
What if there's a company that can make an inflatable paddle board based completely on your needs and preferences.
Well, here it is. Goosehill is a company with more than 10 years of experience making high-quality inflatable paddle boards, and in 2021, they launch their paddle board customization service which gives customers the opportunity to design their own board.
Goosehill Custom Paddle Boards
Goosehill has been dedicated to making top-notch inflatable paddle boards for over a decade. Over these years Goosehill has seen customers who just couldn't find a paddle board they actually like on the market. And it inspired Goosehill to carry out its own service of making customizable paddle boards for the mass market.
With Goosehill's custom paddle board service, customers has the opportunity to decide the design of their board. Goosehill has its own design team to assist customers in designing their own board and make sure the custom SUP board meets their needs.
Goosehill strives to connects with its clients by paying attention to their interests, personalities, and preferences through custom paddle boards. What makes a custom paddle board special is that it's designed by the client and there won't be another one like it on the market.
Why you should have a custom paddle board?
Stand up paddle boarding is now a fast growing trend around the world, and Goosehill believes it's more than that. Goosehill think of it a lifestyle that everyone should consider adopting and will benefit from.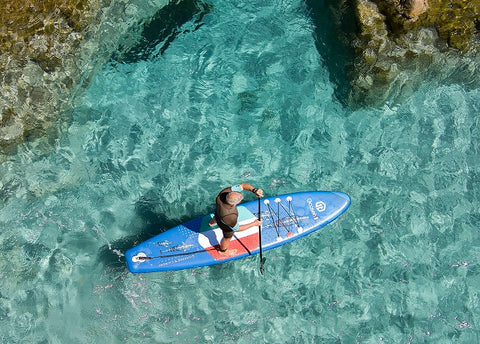 While most of the paddle boards on the market are mass-produced and it's common to see someone else using the same board as you, you can make your paddle board more unique and personal. Having a custom paddle board not only shows your personality and set you apart from the crowd, but it will also encourage you to get out and paddle more and embrace a healthier lifestyle.
How does Goosehill's custom paddle boards service work?
Customers can decide every detail of the board. Any patterns or photos can go on the board on both the front and back. Send Goosehill the photo or pattern you'd like to go on the board and Goosehill's designers will take care of the rest. Goosehill will continuously communicate with customers to make sure the board is made the way customers wanted.
Then this personalized paddle board will be made using Goosehill's top-notch SCE technology to make sure that it not only looks good, but also performances well on the water.
There are a total of 3 models for customers to choose from for customization.
All-around: 10'6''*32''*6''
Touring: 12'6''*32''*6''
Touring: 11'6''*31''*6''
As far as accessories go, Goosehill really outdid its competitors. Other than the unique custom paddle board, you will also get a high-quality 3-piece full carbon-fiber paddle, something that you don't normally see in boards under $1000. Not only that, Goosehill continues to include an electric pump in the package. The rest of the package include a coiled safety leash, a high-quality backpack that fits everything in, a detachable center fin and a repair kit.
Most customized goods are costly, but Goosehill's customizable paddle boards is an exception. You get a personalized paddle board and all those high-end accessories for less than one thousand dollars. The price point isn't low perse, but just a bit higher than a normal touring paddle board and way lower than some of the high-end boards on the market. So it's fair to say this is by many measures a real bargain at this price.
Paddle boarding on a board that's designed by yourself is a unique experience. Paddle boarding itself is a fun and beneficial sport and a custom paddle board can motivate you to go out and paddle more.
---