How to Call for Help at Sea?
If you go out on the water a lot, it's important to know how to call for help in an emergency in case you are in one. This post will show you different ways to call for help when you are out in the sea.
Who to call for help?
The odds of accidents are rare, but that doens't mean you don't have to be prepared for it. If you are actually in an accident, not only will you need to have the means to call for help, you will also need to know who to call for help.
If you are in an emergency situation or see someone else in trouble, you should call 911 or 112 and ask for the coastguard.
If you see someone else in trouble on a river or lake when you are inland, call 911 or 112 and ask for Fire and Rescue.
What you can use to call for help
There are several different communication devices you can use to call for help. It's strongly recommended that you take a suitable communication device with you whenever you are out on the water. Make sure you know how to use it, and if possible, keep it within reach so that you can access it quickly when in emergency.
Your phone
Usually your phone is one of the best means of calling for help as you will probably bring it with you anyway. Make sure the remaining battery life is enough for you to make the call when needed. If needed, bring a portable charger with you in case battery life runs low.
Put your phone in a waterproof phone pouch. It's recommended you carry this on your person instead of in a drybag on your board. It will be useless if you can't reach it in time when needed.
If you are far away from the shore, there might be no signal. But even if it shows you service, try calling 999 or 112 anyway as in an emergency your phone will be able to use another phone network. Some devices allow you to activate an emergency call with your location by repeatedly pressing the power button. Check and see if your device has this feature.
Personal Locator Beacon
PLBs will send a message to the Coastguard through search and rescue sattllites letting them know you are in need of help. And then the Coastguard will start to send search and rescue assets out to the GPS position provided by the PLB.
They work on the 406MHz distress frequency. The beacon also operates using a 121.5MHz frequency, which means lifeboats can home in on the device once they are close enough. What you should also know is that a beacon is a recognized way of calling for help.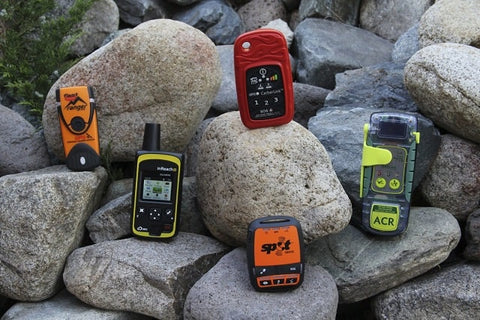 Advantages of PLB:
Unlimited range allows you to get help fro anywhere in the world with it. It's the perfect choice for those who want to go somewhere outside A1 GMDSS sea area.
Since it's a recognized way of calling for help, the Coastguard will react on it immediately.
Disadvantages of PLB:
It requires you to activate it manually, which can be a little difficult when you are in an emergency situation. You need to be conscious and able to hold it up out of the water with the antenna pointing at the sky. They also can't float, so you need to be careful not to lose it or drop it in the water.
It needs to be registered with the Coastguard, which means only you can use it, it's not supposed to be used by other people.
Automatic Identification System(AIS)
AIS devices use VHF frequencies to transmit their location which can be received by all AIS receiving stations within range, including commercial ships and other leisure vessels. The device will give a location but unlike a PLB, it's not a recognized way of calling for help. AIS devices have a range of up to 5 nautical miles in open water.
Advantages of AIS devices:
If you fall overboard, especially in the dark, it allows your crew to find you quickly.
If the AIS device goes off, everyone in a 5-mile radius who has an AIS receiver will be able to see where you are and they would probably assume you are calling for help.
They can be activated automatically. Automatic and semi-automatic ones will activate even if you are unconscious.
It doesn't require you to register it, so you can lend it to others.
As the AIS device technology develops, it now includes DSC in some of the devices which will activate a DSC alert even if your crew doesn't get an AIS audible signal. Some can also send out an all-ships distress alert, depending on the country.
Disadvantages of AIS devices:
It only covers a range of around 5 miles in open water. It uses VHF, which means as you get into the coast or any obstruction, the range will become lower. Even in A1 on the GMDSS sea area map, it's possible that no one will be alarted.
It's not an internationally recognized way of calling for help. The Coastguard doesn't recognize it as a call for help. Currently, the Coastguard doesn't get an audible alarm, or an emergency signal.
Not all AIS receivers display the same information(depending on chart plotter, software updates and AIS receiver). The latest kit gives an audible alarm and circle with cross. Many sets won't do an audible alarm. Some sets won't even see the symbol. Test your kit to check(inform the Coastguard first).
Handheld VHF/DSC(very High Frequency/Digital Selective Calling)
They can send out distress message to all shore stations and vessels in range. The range it can cover is from 2.75 to 5 nmiles, VHF range is limited by antenna height.
If possible, always get a radio that comes with DSC. A DSC alert is a recognized emergency signal, and it will be sent out together with your current location.
Send a distress alert followed by a mayday voice call on Channel 16. This sends out the distress message to all vessels and shore stations in range.
Requires an operator's licence, a ship's portable radio or ship's radio licence (free in the UK if requested online) and a Maritime Mobile Service Identity (MMSI) number, which comes with the radio licence.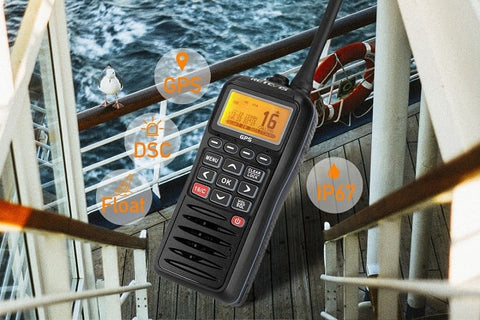 Tracker
The range of a tracker varies from device to device. It might use a satallite communications system which allows you to call for help no matter where you are. And some might use a a mobile phone local GSM network which can only be used locally.
Some GSM or satallite trackers have an SOS feature which allows you to call for help from a Rescue Coordination Centre(RCC). They will then pass on your distress message to the Maritime RCC who will task the appropriate rescue service for you.
There are all sorts of trackers to choose from. Basically all trackers are different and the cost, specifications and network availability are different.
---