Safety Tips for Paddle Boarding in the Rain
You might be in an area where it rains a lot. If you are a frequent paddler, you might wonder if you should bother to go out and paddle when it's raining outside. Well, if you really want to paddle, it's worth a shot.
One of the advantages of paddle boarding in the rain is that your local waterway will probably be empty, which means you don't have to share the water with boaters, kayakers, or other paddlers around. You will have a few hours of adventure without other people getting in your way.
If you are intrigued, below is what you should know before you actually go out and paddle in the rain.
Practical tips to make paddle boarding in the rain safer and more enjoyable.
What to wear for paddling in the rain
Paddling in the rain isn't like your regular paddling session, you need to wear something appropriate, like a wetsuit. Basically, a 3/2 mm neoprene websuit will make a fine choice for an all-season rainy day sheath, but if you choose to go out on a winter's day, you would probably want to go thicker(4/3 mm). Other than your body, your feet will also need some protection. Consider a pair of neoprene booties if it's from October to March. They are comfortable and can give your feet better grip on the board.
If the rain is heavy, it's recommended to wear a light and bright-coloured rain poncho. But you need to make sure the hood doesn't block your peripheral vision so that you can still keep an eye out for nearby watercraft, other paddlers, and obstacles.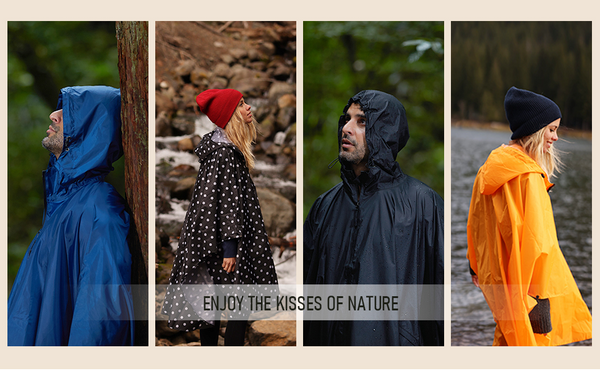 The most important piece of equipment you should have is a personal flotation device. It's even more important when you are paddling in the rain because the visibility is not as good as when it's sunny. A red or orange PFD will make it easier for others to spot you from far away. Also, make sure your PFD has a safety whistle to alert others when you are in need of help.
What to bring
Paddling in the rain requires you to have better balance. If you are not a very good paddler and have been having trouble balancing on the board, you might want to consider upgrading your board. Get a paddle board that's designed for better balance and stability.
Another accessory you should consider bringing is a drybag. Use it to bring all the accessories you want, like the additional layers or rainproof outerwear and your phone. Usually a paddle board will have bungee cords for you to fastern the bag.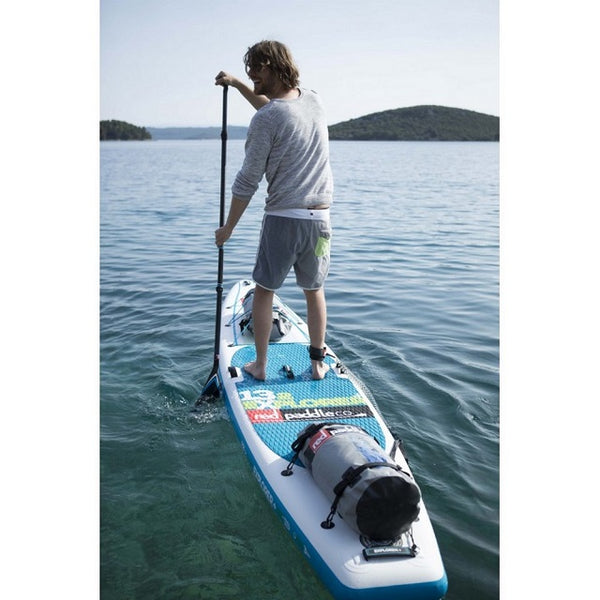 Sometimes it can get really dark when it rains, so if you really want to go out and paddle in this weather, consider installing a bow safety light for added visibility.
Stay close to shore and paddle in a place you are familiar with
Here's another important safety tips for paddle boarding in the rain. As is mentioned earlier, paddling in the rain is not like your regular paddling session in nice weather. You might have to face new challenges like visibility getting lower. The water level will also rise and the water will become choppier. The wind can also cause serious problems for you. All in all, there will be more distractions. So we would recommend that you avoid places that you are not familiar with and stick to waterways that you know well and have paddled on before.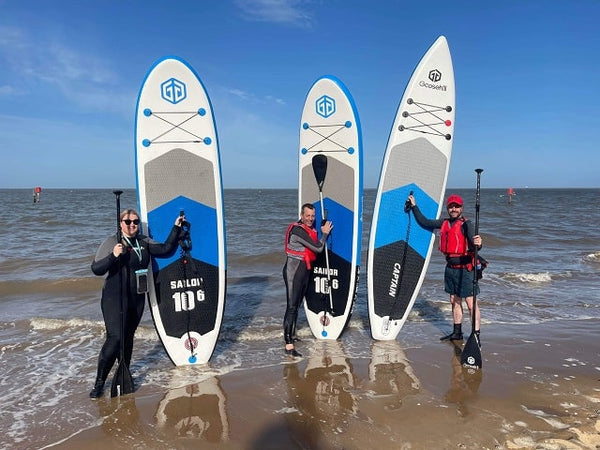 Paddling in the rain could be dangerous so you need to under the conditions (check marine forecasts, windage, and currents - tidal or otherwise) before going out. Know your limits and don't do anything that's beyond your capability. And be sure to let someone know where you are going and when you will be back.
---