Safety Tips for Paddle Boarding with Kids
Paddle boarding can be a great family activity. It's fun, relaxing and makes for a great oppotunity for family bonding. With so many kids accidted to electronics like smartphones, or PS5 nowadays, it's good to take them to the outdoors once in a while. If that's what you intend to do, the first thing you need to know is how to keep your kids safe on the water.
Below are some safety tips for paddle boarding with kids. Be sure to follow them to ensure everyone's safety on the water.
Safety tips for paddle boarding with kids
Let your child get used to being on a paddle board
Before you take your child out on the water, it's important to make sure they feel comfortable being on a paddle board on dry and solid ground. Teach them how to correctly stand on the paddle board. If they are smaller, give them time to get used to sitting on the paddle board with you. Below are several safety tips you should always practice.
Never leave your children alone on the water
Do not let them paddle out of reach if they are on their own board
Check the weather forecase in advance. If the weather doesn't look good, you might want to consider picking another day.
Inform someone you can trust where you are going and what time they can expect you to return. If both of you are in trouble, it makes it eaiser to raise the alarm.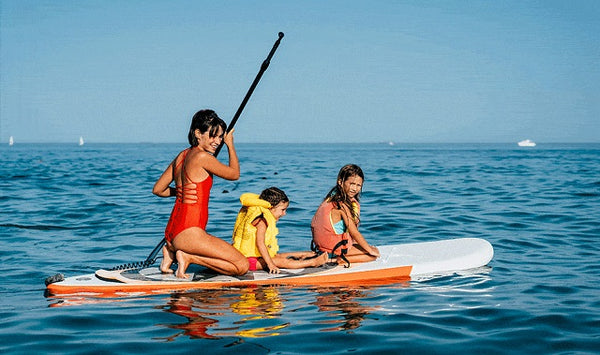 Make sure everyone's wearing a buoyancy aid
A buoyancy aid is one of the most important pieces of safety equipment for paddle boarding. So everyone should wear one, no matter how good of a swimmer you and your children are. Also, it's important to make sure the buoyancy aid fits the wearer properly.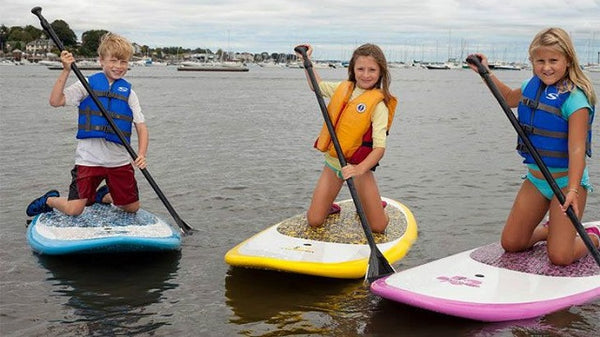 Start in calm waters
You need to give your kids time to get used to being on the water. So the best choice is to start with calm water where they can learn the basic paddling skills and get used to being on a paddle board on the water. Calm waters will make it easier for kids to balance on the board and gain confidence. If you two are going on the same board, be prepared for any unexpected movements and situations.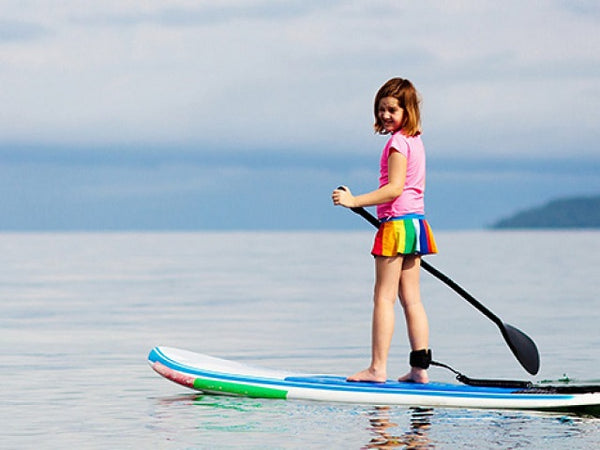 Choose your destination wisely
Before actually heading out, plan your route wisely. Rivers might not be a good choice for paddling with kids as the current can help or hinder you more than you think. If a river is the only choice you have, make sure to go upstream on the way out and downstream on the way back home to avoid fighting the current when you're tired. If you are going to be paddling on a canal, be sure to pay attention to the wind rather than the current. The right thing to do is to paddle into the wind on the way out and down on the way back.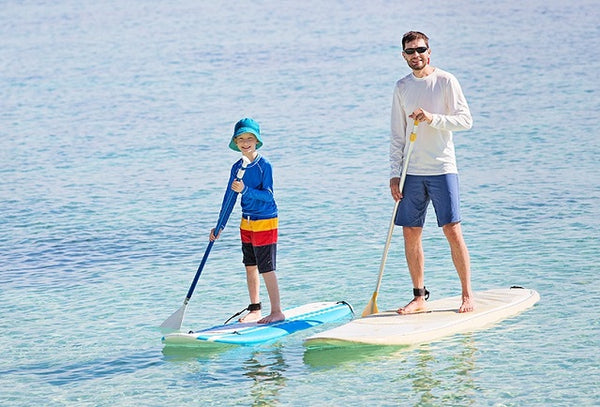 Teach them how to fall without hurting themselves
You will probably fall at some point during your paddling session with your kids, so it's important to teach them how to avoid hurting themselves when they actually fall. Most of the time, there's not much we can do to change the way we fall, but teach them to fall to the side of their board will protect them from injury. Tell them to avoid bracing their fall on their hands because they could sprain their wrist if it catches on a rail. Teach them how to get back on their board, this will probably take some practice, but it's necessary. And if possible, bring your first aid kit along in case someone gets hurt.
Relax and have fun
The most important thing other than keeping everyone safe is to have fun. Afterall, that's what you are going for, right? There's nothing better than relaxing and having fun on the water with the people we love. Let the kids dunk their feet and hands in the water, and get them to help spot landmarks. If they have their own paddles, let them paddle while you sit back and try to relax for a bit.
---