5 Best Lakes in Europe - Goosehill Travel Guide
European lakes are great destinations for summer vacations. They offer stunning views and not as crammed as some popular beach destinations. If you are looking for a place to relax and cool down, be sure to check out our recommendation of the top 5 lakes in Europe. 
Lake Como, Italy
Lake Como is one of the deepest lakes in Europe. It's been a tourist attraction since Roman times and today, it continues to attract visitors from all around the world to see the wonderful views and many Hollywood and international stars to live here.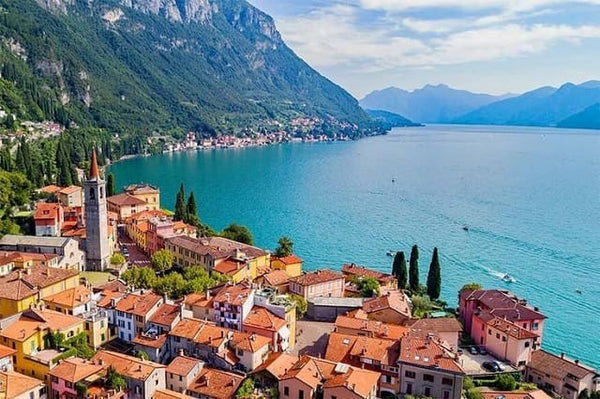 Como is a paradise for water sports enthusiasts. People come here for water skiing, wakeboarding, sailing, windsurfing, diving, as well as paddle boarding, which took the world by storm in recent years. The surrounding mountains are great places for hiking and exploration, and since the place is warm even during winter, hikers can come here anytime of the year.
You can find some of the lake's best beaches in the northern parts of the lake and beautiful golden sand can be found in many different parts of the shores around the lake. There are umbrellas and sun loungers on the beaches, in some parts there are even restaurants for you to grab a bite.
Lake Constance
Lake Constance has 170 miles of shoreline - most of it in Germany, other bits are in Austria and Switzerland. You can find many beautiful lakeside towns and villages, all of which are great destinations for exploration and popular water sports like windsurfing, paddle boarding, or boating.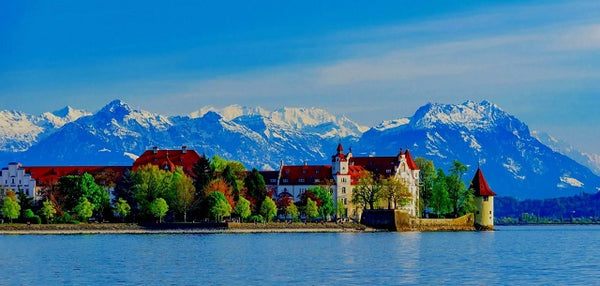 A strongly-recommended way to explore the place is by bike. The Lake Constance Trail can offer you a flat, car-free cycling experience. You wil find the resort town of Überlingen on the northern shore, medieval towns like Meersburg and nature reserves such as Wollmatinger on the way.
The shoreline in Austria is 15 miles long and goes through the city of Bregenz where a summer festival of classical and operatic music is hosted each July and August on and around a stage in the lake.
Lake Geneva, Switzerland
Lake Geneva sits right on the Alps with 60% lies in Switzerland and 40% lies in France. It takes up 224 square miles with the average depth of 507 feet. The lake attracts visitors all year long. Popular activities here include boating, paddle boarding, walking the steep cobblestone streets, antique shopping, and more.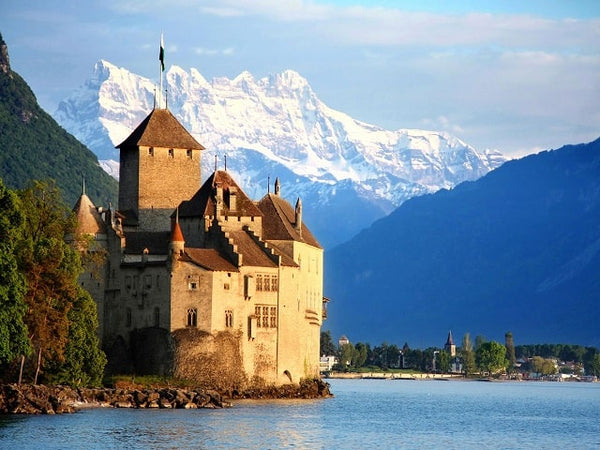 You will find one of the most magnificent views the lake has to offer in the western shore, which sits against the snowy peaks of Mont Blanc. 
There are a total of 116 beaches along the shores of Lake Geneva, most of which are public and free to access.
Even though it's located against the snowcapped Alps, the waters of the lake are actually warm between June and September to allow for swimming and other water sports.
Lake Bled, Slovenia
The bluish-green water will probably render you speechless and it's not the only attraction of the lake. If you have previous knowledge of the lake, then you've probably heard of the famous small island in the center of it. What sits on the small island is the medieval Bled Castle and its 16th-century bell tower over a cliff which provides amazing views of the beautiful waters around. You can access the castle by a traditional gondola-like "pletna" boat during warmer months, in winter, the lake is often frozen.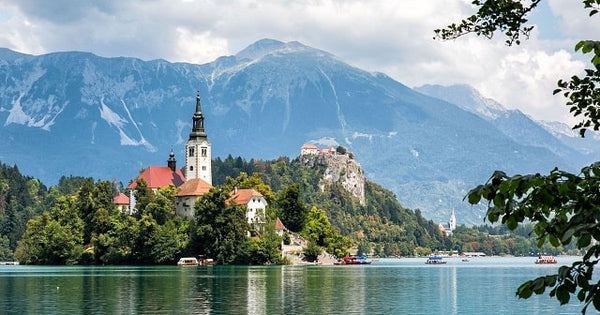 The lake continues to attract outdoor enthusiasts to come here for hiking, biking and water sports like paddle boarding and canoeing. You can have fun doing what you like here while enjoying the magical views of thick forests and snow-covered peaks.
Lake Annecy, France
Located in the center of the French Alps, Lake Annecy is the third largest lake in France and recognized as one of the cleanest lakes in Europe. With a depth of just 82 meters, it's not as deep as other lakes we've introduced in this post, but it makes up for it with its awe-inspiring, crystal clear blue waters. Swimming here is just a pure enjoyment.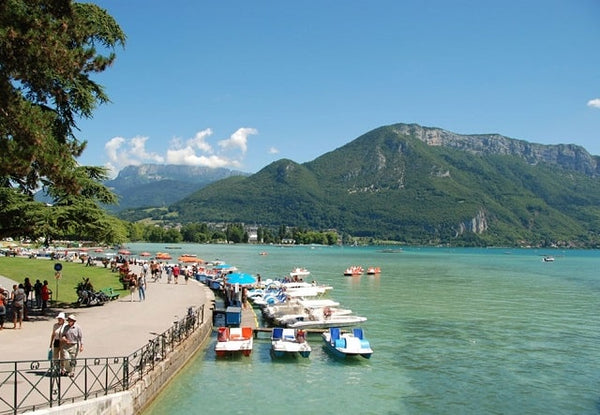 The surrounding snowcapped mountains and sandy beaches create a stunning contrast of color and textures that extend as you explore the many lakeside medieval villages.
The lake is even more beautiful in winter with surrounding valleys and mountains covered in snow, making them perfect for skiing, showshoeing and paragliding.
Conclusion:
All these lakes will offer you with a trip of a lifetime. While there are a lot of ways for you to enjoy the magnificent views these lakes offer, we would recommend that you try stand up paddle boarding. The sport has been around for decades and became popular worldwide in recent years. It's a wonderful way for relaxation and adventure. 
---