Best Spots for Paddle Boarding in Perth, Australia - SUP Australia
Perth has always been one of the most beloved tourist attractions in Australia thanks to its nice weather and beautiful views. It's also the best place for paddle boarding.
Being the capital city of West Australia and the fourth most populous city in Australia, you can easily find all kinds of paddle boarding spots and participants of the sport in the city.
Here are several spots for paddle boarding Perth has to offer.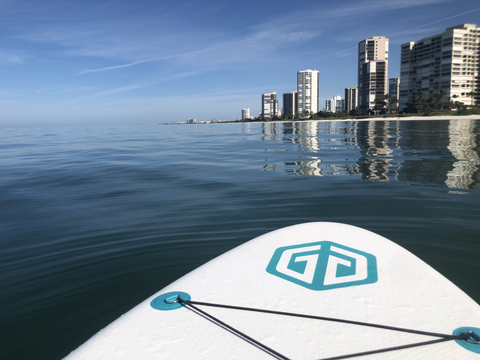 Get a nice paddle board can make paddle boarding in Perth even more enjoyable for you. Make sure you have the best inflatable paddle boards for yourself.
Top 6 Spots For Paddle Boarding in Perth
1. Cottlesloe Beach
Famous for its crystal waters, Cottlesloe Beach is an attraction not only for tourists but SUP enthusiasts too. The relatively calm waters at the beach make for a perfect breeding ground for newbies trying to balance on SUP boards. Cottlesloe may not have the biggest swell in Perth, but the spot has beautiful scenery and considered one of Perth's most beautiful beach.
Paddle board rentals near Cottlesloe Beach:
Perth Stand Up Paddle School
Website: https://perthsupschool.com.au/
Address: 48/60 The Esplanade, Peppermint Grove WA 6011, Australia
Hour: 
Monday Open 24 hours
Tuesday Open 24 hours
Wednesday Open 24 hours
Thursday Open 24 hours
Friday Open 24 hours
Saturday Open 24 hours
Sunday Open 24 hours
Phone: +61430441600
2. Swan River
The Swan River is yet another Perth stand up paddling spot known for its calm waters and great hub for SUPers. You can start your paddling session from Garrat Road Ridge Park and head downstream as you explore the breath-taking scenery, this water body has to offer. Expect a couple of sea life along the way (or rather dolphins), coupled up with a beautiful landscape view of Perth.
The waters at Swan River may be calm but boaters, kayakers, and other surfers frequent the river, making it challenging for total newbies. As with all our selected spots, the Swan River has several joints where you can eat and revitalize yourself before a second round of paddling.
Paddleboard rentals near Swan River: 
PUPS on SUPS
Website: http://www.pupsonsups.com.au/
Address: 17 Margaret St, Ashfield WA 6054, Australia
Phone: +61499973995
3. Scarborough Beach
Scarborough is not only a perfect paddling hub but also transforms into a nightlife sensation for local residents. It is actually considered one of Perth's liveliest spots once the sun goes down. The long, sandy stretch of the beach is a haven for surfing, and stand up paddling in Perth. You'll see crowds gathering at the Surf Life Saving Club, but for an all-out paddling session, head over to the Brighton road carpark.
Paddle board rentals near Scarborough Beach:
SUP Central Matilda Bay
Website: https://supcentralwa.com.au/
Address: Hackett Dr., Crawley WA 6009, Australia
Hour: 
Monday 8AM–5PM
Tuesday 8AM–5PM
Wednesday 8AM–5PM
Thursday 8AM–5PM
Friday 8AM–5PM
Saturday 8AM–5PM
Sunday 8AM–5PM
Phone: +61417911311
4. Rottnest Island
West of Perth is a lovely island that lies at the Indian Ocean consisting of more than 20 bays. The Rottnest Island is perfect for lone SUPers or paddling enthusiasts wishing to enjoy a quiet break away from the bustling towns around Perth. Rotto's shipwrecks and coral reefs are just a few of the amazing sites around this car-free island. Expect a group of quokkas every now and then as you paddle around the island.
Paddle board rentals near Rottnest Island:
Stand Up Surf Shop
Website: https://standupsurfshop.com.au/
Address: Unit 3/82-84 Stirling Hwy, North Fremantle WA 6159, Australia
Hour: 
Monday 9AM–5PM
Tuesday 9AM–5PM
Wednesday 9AM–5PM
Thursday 9AM–5PM
Friday 9AM–5PM
Saturday 9AM–4PM
Sunday 9AM–4PM
Phone: +61893355636
5. Shoalwater Islands Marine Park
Spend a day of paddling through the Shoalwater Islands and get the chance to experience Aussie wildlife on and off the waters. Here, you'll find tons of penguins, seals, sea lions, and colonies of pelicans flying above. If you can't get enough of these beauties, make sure you visit the Penguin Island Discovery Center once you're done paddling in Perth's most diverse waters.
As you paddle along, take a detailed look of the land surrounding the island has rugged limestone terrains stretching up to 1km offshore. There are a couple of eating spots around the area, but we recommend carrying your own packed lunch just in case you paddle too far.
Paddleboard rentals near Shoalwater Islands Marine Park:
Rockingham Kayak & SUP Hire
Website: https://rockinghamkayakhire.com.au/
Address: 50 Rae Rd, Safety Bay WA 6169, Australia
Phone: +61474089272
6. Fremantle
The historic spot is loved by water sports enthusiasts and is a great place for a family mini-vacation. The colonial architecture, along with its Cappuccino Strip will definitely make your paddle boarding in Perth a worthwhile experience. Fremantle has gentle breaks, so it is a relatively accommodating spot for beginners or intermediate SUPers. You can inquire for Perth paddle boarding sessions at the Surf Life Saving Club.
Paddle board rentals near Fremantle:
SUP Central WA
Website: https://supcentralwa.com.au/
Address: Service address, Hackett Drive Car Park, Crawley WA, Australia
Hour: 
Monday 8AM–5PM
Tuesday 8AM–5PM
Wednesday 8AM–5PM
Thursday 8AM–5PM
Friday 8AM–5PM
Saturday 8AM–5PM
Sunday 8AM–5PM
Phone: +61417911311
Best time to visit Perth, Australia
September to November
The best time to visit Perth is from September to November. They are basically the springtime in Perth and the average temperatures are about mid-80s to upper 90s, although sometimes it could go up to 100 degrees.
Even the crazy heat can't stop the hotel prices from going up to the highest point of the year. There are several big events coming up like the Perth Royal Show, Listen Out Festival, Kings Park Festival, and Wine Show of Western Australia.

December to February
From December to February, you are going to experience the highest temperatures in Perth. If you are able to tolerate the heat, you can seriously consider coming during these months for paddle boarding since the hotel prices will start to drop after the summertime from September to November is passed. Other than paddle boarding, there are at least two big events held during these months: Australia Day Skyworkds and Perth International Arts Festival.

 March to May
Perth's fall starts from March to May. The temperatures can stay at 90s most of the time. It's also a great time for stand up paddle boarding enthusiasts to pay a visit to Perth. The weather is fairly comfortable, it's less crowded than the peak seasons and the hotel prices are lower, too.

 June to August
This time period is Perth's winter. Heavy rains and storms are to be expected. The temperatures are usually in the 70s. While the temperatures are comfortable, the rains and storms are probably going to ruin your day if you are going to get outside and do outdoor activities. So naturally, the hotel prices reach the lowest point of the year.
If you are looking for a place to paddle board in Australia, Perth is one of the best options you can have. Just grab your stand up paddle board and have fun.
If you are just getting started on the sport, note that most paddle boarding spots in Perth have calm water which is very suitable for beginners. As long as you get the right board from trusted SUP brands like Goosehill SUP, you should be easily master the sport in no time.
---