The 4 Most Attractive Places For Paddle Boarding in Dallas,TX
Table of contents
1.Trinity River.
2.Lake Texoma.
3.White Rock Lake.
4.Lake Worth.
5.Stand up paddle board rentals in Dallas.
Water sports might not be the most populous kind of sport in Dallas because the city is well-known for being in the largest inland metropolitan area in America and it basically has no navigable link to the ocean.
But that might not be the case. If you like paddle boarding Dallas has all sorts of nice SUP spots for you to have a nice time on the water. Here are what we've found in the city for you paddle boarding lovers in Dallas.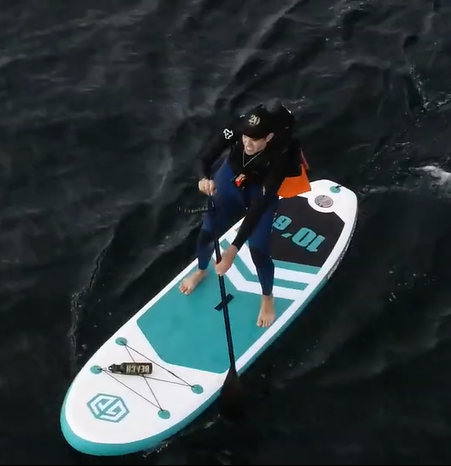 Here's a nice inflatable SUP board for you to enjoy paddle boarding in Dallas if you haven't gotten yourself one.
4 Attractive Places to Go Paddle Boarding in Dallas
Trinity River
Head over to Trinity River, if you have a knack for paddling under classic bridges, city view, and other nice spots all the way to downtown Dallas. It's an excellent spot for paddle boarding Dallas offers to SUP rookies.
As you paddle towards the Loop 12 bridge, the view smoothly shifts to dense forests and various kinds of birds. Common birds include the heron, red-shouldered hawks, and wood storks.
The river has meandering characteristics, making it perfect for intermediate and expert-level SUPers. Beginners can also have fun with their paddleboard here, but they'll need to take necessary precautions before indulging in the sport (check river height and flow rate).
Paddleboard Rentals near Trinity River: 
Pinky's Kayak Rentals
Website: https://pinkyskayakrental.com
Address: 4106 Nasa Pkwy Ste 1 El Lago, TX 77586
Service: Paddleboarding, Yoga, Rafting/Kayaking
Hours: 
Mon 8:00 AM - 6:00 PM
Tue 8:00 AM - 6:00 PM
Wed 8:00 AM - 6:00 PM
Thu 8:00 AM - 6:00 PM
Fri 8:00 AM - 6:00 PM
Sat 8:00 AM - 6:00 PM
Sun 8:00 AM - 6:00 PM
Phone: (713) 510-7968
Lake Texoma
Lake Texoma is probably one of the biggest reservoirs in the United States. It was formed by the Denison Dam and gets most of its waters from the Red River. You'll have a breath-taking paddling experience whenever you put your paddle into the water. The lake is surrounded by marinas, and it's a nice sport for other recreation activities.
Less than an hour's drive from DFW metroplex, the lake has one of the best bass fisheries in the nation. So, expect a run with shad schools- they love Striper bass. Novice paddlers will have breeze training on the lake.
We would recommend paddling along the curvy shoreline to avoid the strong northern winds. Rentals are also available for paddlers at most marinas engulfing the banks of the lake.
Paddleboard Rentals near Lake Texoma:
Stand Up Paddle Texoma
Address: 132 Grandpappy Dr, Denison, TX 75020, United States
Service:  Paddleboarding
Phone: +19034656330
White Rock Lake

Away from the grey and white vicinity in downtown Dallas, you'll find the White Rock Lake. The outdoor haven was originally built as a reservoir but has attracted numerous paddlers from around Texas.
It's a great getaway, especially during warmer months. As you paddle around the lake, you'll see a handful of birds, snakes and other animals.
Paddlers of all experience levels will find the lake suitable from simple practice sessions to vigorous exercises that involve the windy challenge of the open waters.
Beginners with no paddleboards can find rentals around the lake at affordable rates. There's a couple of parks and wildlife protection areas as you head towards the west side.
Lake Worth

Although the lake is closer to the concrete jungle, it still ab hub for native plant species like the Black Jack Oak, Juniper Trees, and scattered cactus. The meandering nature of the lake brings out secluded spaces, ideal for paddling. The murky waters may be a challenge for swimmers, but if you're on a pure paddling basis, then it is a great medium.
The lake is also filled with little islands, so you'll have something to keep your eyes mesmerized. The gentle beach offers paddlers of all skill levels a chance to test their skills. The lake is lengthy and experts can have a great time with their paddle board all day long. Just paddle towards the south and you'll end up taking the exit at the West Fork Trinity River.
There have been developments at the Lake to make it attractive for paddle boarders. In the near future, the lake will be connected to the Trinity Rails System and other development parks surrounding the lake.
If you want to try paddle boarding Dallas has a lot to offer to you. You are going to have so much fun paddle boarding in Dallas. It's time to give the sport as well as the city a chance. If you have not yet get your paddle board, go get one from brands like Goosehill and be ready to have tons of fun on the water.
---