6 Hot Spots for Paddle Boarding in Los Angeles
Table of content
1.Malibu Surfrider Beach
2.Latigo Beach
3.Santa Monica State Beach
4.Topanga Beach
5.Marina Del Rey
6.Venice Canals
Los Angeles is a great city for paddle boarding enthusiasts because great bodies of water suitable for paddle boarding can be found easily in and around the city.
Not to mention that it's one of the most populous cities in America, chances are you are likely to meet and make friends with like-minded people when paddle boarding in the city.
Here we've rounded up several hot spots of paddle boarding that spread through the city for your consideration.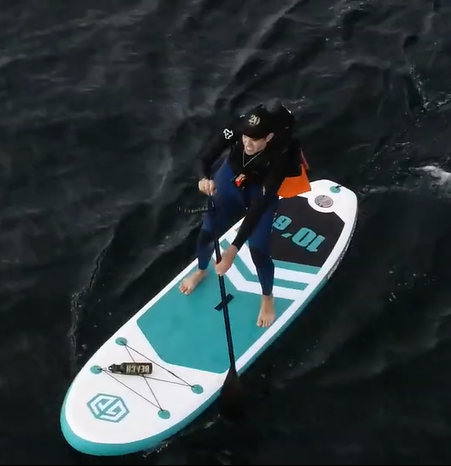 Other than a beautiful place, you will also need a beautiful paddleboard to enjoy paddle boarding in Los Angeles. Here's the inflatable paddle board you need.
Top Spots for Paddle Boarding in Los Angeles
1. Malibu Surfrider Beach
Malibu Surfrider Beach is known to the world as one of the world's birthplaces of surfing. So you are sure to find a lot of surfers here, so will you find paddle boarders like you.
The place has been attracting paddle boarding lovers from different places. It's got small shore break for paddlers to easily get out and test their paddleboard techniques. For those who haven't get their first paddle board yet, Goosehill SUP would make a great choice for an inflatable stand up paddle board.
If you prefer to rent a paddle board rather than bringing your own, you can easily find Malibu Surf Shack right across PCH from Malibu Pier which offers everything you can possibly need for paddle boarding or surfing. You will also be able to find Malibu Farm Cafe at the end of the pier where there's a high chance of seeing celebrities.
2. Latigo Beach
If you are looking for a place to avoid the summer heat and have a nice, cozy place for paddle boarding, try Latigo Beach. It will only take you a few minutes to drive there from central Malibu.
It's not as crowded as other parts of Malibu so you will probably be able to do paddle boarding in a relatively quiet environment, if that's what you want when paddle boarding. After starting off on the water, no matter which way you go, you should be able to have a great view of Malibu's beachfront houses and magnificent shoreline.
You might even spot seals and marine life. There aren't any rental shops nearby, but you do have the choice of having a board delivered to you by local companies like Radfish Malibu, but you'll have to notify them in advance. A perfect end to a perfect day would be at Malibu Seafood where you can enjoy some fish and chips after a joyful day of paddle boarding.
3. Santa Monica State Beach
On the westside of Los Angeles you will find miles of beaches for people to start their paddle boarding adventure. One a good day, one strongly-reommended route for SUPers is going along the shoreline for a full view of Malibu.
There are rentals and paddle boarding lessons available at Poseidon Paddle & Surf on Ocean Avenue. If you feel like taking a break, cafes can be found easily at Santa Monica's beachfront.
4. Topanga Beach
Topanga Beach is the place suitable for SUPers of different skill levels. If you choose to paddle close to the shore, the waves can be a great challenge to your balancing skills. If you go out to the sea, you are able to find calmer water for a more leisure and relaxing session of paddle boarding.
The parking spot can be filled up pretty quickly, so it's recommended to arrive early to find a good parking to set off your SUP adventure. When you are done paddling, head over to Reel Inn for fresh seafood.
5. Marina Del Rey
Marina Del Rey is probably one of the best place for SUP rookies to begin their first paddle boarding session. The water is fairly flat and calm, and there are rentals and paddle boarding lessons available from Pro SUP shop.
6. Venice Canals
If you prefer rivers over open water for paddle boarding, Venice Canals would be a great choice to go with. You can paddle along the canals which run through the city and take the chance to explore the city more thoroughly.
You can find all the equipment you need from Marina Fit and Fun if you don't bring your own. Also, it's recommended you stop for a meal on Abbott Kinney or Venice Boardwalk.
You can easily find all kinds of great places for paddle boarding in California, and Los Angeles is one of the best cities you can find and live in if you are a paddle boarding enthusiast.
---