Where to Paddle Board in Newcastle, NSW - Paddle Boarding Newcastle
Newcastle is the second most populous city in New South Wales. The city's full of all kinds of great spots where you can have fun paddle boarding. We've picked out a few spots for you to enjoy your time with your inflatable paddleboard.
Hesitant to get your first inflatable paddle board? Check out Goosehill Sailor inflatable SUP board. It's a high-quality all-round inflatable SUP board, great for paddlers of all skill-levels.
Best Places for Paddle Boarding Newcastle Paddlers Can Go to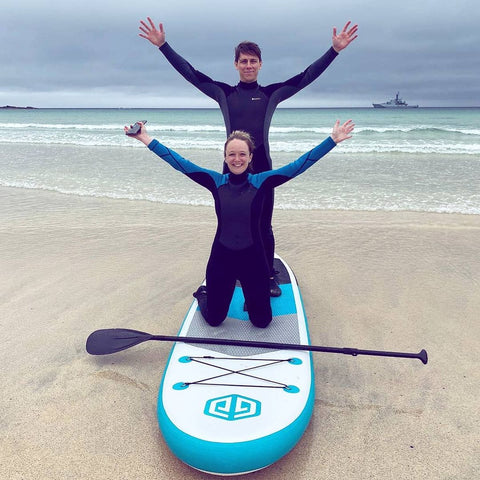 Throsby Creek
Throsby Creek is a hidden gem in the heart of Carrington. People mostly come here to take a nice walk on the path and broadwalk and maybe observe the rich wildlife here. The water is calm generally and very suitable for beginners to learn how to paddle board. Parking space can be found near the Carrington Boat Ramp and you can launch your paddle board at the Newcastle Rowing Club.
Horseshoe Beach
If you would like to take your dog with you to your SUP session, Horseshoe Beach would be a great destination. It's the only dog friendly beach in Newcastle. Your dog can have fun here without the restriction of a leash. But if you want to take your dog to the water, be sure to give him time to get used to staying on your paddle board. Here's what you need to know before you take your dog to the water to paddle with you.
Naru Beach
Naru Beach is the perfect spot for families to enjoy quality time on the water. The water is crystal clear and you can have a great view of Lake Macquarie on the beach or on your paddle board. There are also swimming areas at the northern side which is ideal for kids. But a word of warning, don't get too close to the deeper areas of the lake as there is a strong current which could put you in danger. Just stay close to the shore and you should be fine. A lot of families come here with their kayaks, boogie boards, inflatable SUP boards. So not only can you have fun paddling here, you might also be able to meet a few people here who like paddle boarding as you do and make a few friends.
Green Point Foreshore
Another great place for SUP fun Lake Macquarie has to offer. You will have the magnificent view of Lake Macquarie unfold before your eyes. There are a lot of access pionts along the different walk trails of the area.
The Hunter River, Maitland
The Hunter River is beautiful and can make you feel a little secluded when you paddle on it. You can access it from different spots in the Maitland Area like Morpeth from Queens Wharf, Hinton and Lorn. Be sure to check the weather forecast first before coming here and avoid the few days after heavy rain because there will probably be debris and strong current which could threaten your safety.
Port Stephens
For a fun and all-round experience, you should go to Port Stephens. There are plenty of beautiful beaches for beachgoers and a chance to paddle with resident wild dolphins. And the beautiful blue waters is just a pleasure to paddle on. No matter what type of activity you are into, be it swimming, paddle boarding, kayaking, or snorkelling, you can easily find the perfect place to do it. Beginners of paddle boarding can go to Shoal Bay. The calm waves make it a great destination to practice your balancing skills. Little Beach is a hotspot for families to enjoy their weekends. The water is fairly calm, which is perfect for beginners and those who just want to have a few leisure hours on the water. You might even have a chance to spot some dolphins while enjoying yourself on the water.
If you love paddle boarding Newcastle will be an ideal destination. But certain places might not be suitable for beginners. And we strongly recommend you check the weather first before going out and always wear a life jacket when you are out on the water.
---