Best Spots for Paddle Boarding Tallebudgera Offers - Where to Paddle
When it comes to paddleboarding in Tallebudgera, Aussie SUPers are spoilt for choice. From the Tallebudgera Creek running East to Burleigh Heads, there's plenty of paddling ground. Even if it's your first time on board, there is plenty of SUP rentals spread all over the waterfront community. So, what is it like to spend a day or two paddle boarding in Tallebudgera?  In this post, we'll look at the best ways to enjoy stand up paddle boarding in one of the best places to paddle board in Gold Coast Australia.
Paddle Boarding Tallebudgera
First Things First…
As a SUPer, before heading out to any location, it is important that you get all the necessary gear. Longboards, shortboards, medical kits,… you name it. On the flip, if you don't have a stand-up paddleboard yet, just remember to inquire at the nearest SUP rental available.
Paddle Boarding Spots
A couple of paddle-friendly spots engulf the waterfront community, with the most popular being Tallebudgera Creek, Burleigh Heads, and part of Currumbin Creek and Alley. For beginners, starting at fairly calm waters will help you find balance and basically give you an easier time paddling during your first sessions.
As you approach Burleigh Heads towards the beach, waves are calmer and we recommend starting at this point. If you encounter fast-moving waves, make sure you're up for a swim or at least know how to swim. As a beginner, feeling confident in the water is key to learning how to paddle board at the waves.
Being less crowded than other SUP-friendly spots around Gold Coast, Burleigh Heads attracts more beginners than experienced SUPers. Being one of the most advanced suburbs of Gold Coast, Burleigh is one of the coolest places for paddle boarding. If you're up for some intense paddling head over to Tallbudgera Creek, a stream running from the west of Gold Coast all the way to the Indian Ocean.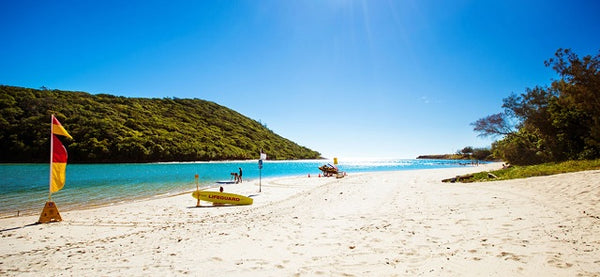 Seasoned paddlers will fancy Tallebudgera Creek for its slightly stronger waves and ideal breakpoints spread from the north side of Noosa heading south of the beach. The pristine waters at the Creek have great swell running from November to July. This is probably the best timing for experts and competing SUPers looking for some swell action.
During your paddling session, expect a variety of sea animals and a couple of pooches on longboards. If you want some parking space, you'll have to head south where there are recreation camps. Beginner SUPers can also paddle at Tallebudgera Creek although they'll have to paddle near the mouth of the Creek.
 Paddleboard rentals in Tallebudgera:
1. Action Outdoor Hire
Website: http://www.goldcoastoutdoorhire.com.au/
Address: Tallebudgera Dr, Palm Beach QLD 4221, Australia
Hour: 
Monday 8AM–5PM
Tuesday 8AM–5PM
Wednesday 8AM–5PM
Thursday 8AM–5PM
Friday 8AM–5PM
Saturday 8AM–5PM
Sunday 8AM–5PM
Phone: +61466816754
2. All Coast Paddle Board Hire
Website: http://allcoastpaddleboardshire.com.au/
Address: Murlong Crescent, Tallebudgera Dr, Palm Beach QLD 4221, Australia
Hour: 
Monday 8:30AM–3:30PM
Tuesday 8:30AM–3:30PM
Wednesday 8:30AM–3:30PM
Thursday 8:30AM–3:30PM
Friday 8:30AM–3:30PM
Saturday 8:30AM–3:30PM
Sunday 8:30AM–3:30PM
Phone: +61416265864
3. Currumbin Boatshed Bait and Tackle
Website: http://currumbinboatshed.com/
Address: 2 Thrower Dr, Currumbin QLD 4223, Australia
Hour: 
Monday 8:30AM–5:30PM
Tuesday 8:30AM–5:30PM
Wednesday 8:30AM–5:30PM
Thursday 8:30AM–5:30PM
Friday 8:30AM–5:30PM
Saturday 7AM–6PM
Sunday 7AM–6PM
Phone: +61755250338
Safety Tips For Surfing At Tallebudgera Creek
Tallebudgera can be a very nice place to paddle board, but at times its crucial to consider safety first. Let's look at a few tips that'll ensure your SUP experience at Tallebudgera is a breeze.
- Tallebudgera has some long summer days and protection is vital. While paddling in the waters, more often than not it is hard to know when you're sunburnt. Get yourself a SPF30 or higher sunscreen and avoid those rash vests you see with SUPers.
- Watch out for marine life while in the creek or at the beach. Gold Coast hosts a bunch of sharks but there hasn't been a single fatal attack yet. However, you'll find bluebottles very annoying as they have a painful sting from their tentacles.
- Always know your limits. If you're an inexperienced SUPer, it is best to paddle on smooth waters. When the surf is big, it is better to watch from the beach rather than competing for space amongst expert paddlers.
- As we mentioned earlier, enrollment in a SUP school is the way to go if you're totally new to SUPing. Not only will you learn faster, but also you'll have the chance to interact with pros and maybe learn a few tricks on the board.
Paddling is such a fun activity and building your confidence whenever you hit the waters brings out some good energy vibes. Tallebudgera is one of the best paddle boarding spots around the Gold Coast. Whenever you get the chance to visit the beachfront community, get wet, and show of your SUP skills! We all need that extra bit of exercise, right?
---