Where You Can Go Paddle Boarding In Sacramento
Table of contents
1.Lake Natoma
2.Sacramento River
3.Slab Creek Reservoir
4.Jenkinson Lake
4 Most Visited Places To Go Paddle Boarding In Sacramento
Sacramento might not be as popular as cities like San Diego as a destination for paddle boarding. But that doesn't mean you can't have fun with your standup paddleboard in Sacramento.
If you live in Sacramento and are just starting to take an interest in paddleboarding, don't be disappointed because there are still a few places you can go paddle boarding in Sacramento.
Choices might not be abundant like when you are paddle boarding in San Diego.  But there are still a few excellent spots you can find for paddle boarding in Sacramento. Here's what we've found for you paddleboarding enthusiasts in Sacramento.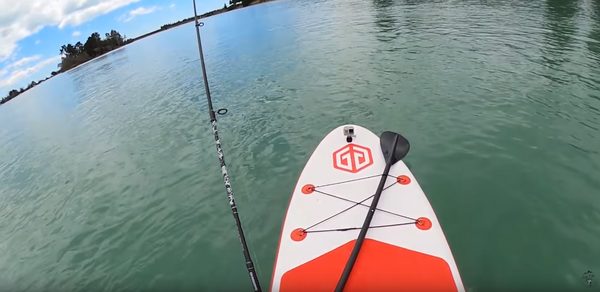 Want to get the best out of your SUP session in Sacramento, you should probably get a nice inflatable stand up paddle board first.
1. Lake Natoma
A good time to visit Lake Natoma and enjoy yourself on your inflatable paddle board would be late summer and fall. It's not as crowded as it usually is at other times and the bracing chill in the air makes it all the more enjoyable to paddle here.
You can get there by taking SacRT's Gold Line from the Sacramento Station to Sunrise Station. It will take approximately one hour but you won't regret it. Another reason why Lake Natoma is recommended for paddleboarding is that unlike most of the other rivers near Sacramento, Lake Natoma doesn't have flying motorboats jamming the water, it has a posted speed limit of five miles per hour, giving rooms for stand up paddle boarders to have fun with their paddle boards on the water.
The water is calm enough for even rookies to have fun paddle boarding on it and there's a high chance you will be able to spot wildlife like duck, osprey, herons, egrets, and eagles. Rentals of stand up paddleboards can be found at California Canoe.
SUP Rentals Nearby:
SUP California - Stand Up Paddle Board Store & Rentals
Address: 13385 Folsom Blvd Ste 400 Folsom, CA 95630
Website: https://supcalifornia.com
Services Available: Sporting Goods, Paddleboarding, Rafting/Kayaking
Hours: 
Mon Closed
Tue Closed
Wed 11:00 AM - 5:00 PM
Thu 11:00 AM - 5:00 PM
Fri 11:00 AM - 5:00 PM 
Sat 11:00 AM - 5:00 PM
Sun 11:00 AM - 5:00 PM
Phone: (916) 294-0048
2. Sacramento River
Cruising down the Sacramento River is a lot of fun. The views along the river are unique and beautiful in their own way. The recommended route is from Redding to Chico.
The Sundial Bridge in Redding is a stop you would want to make on the trip. If you are a real enthusiast of paddle boarding, you would be excited to know that there's a huge event held on the Sacramento River called California 100 which will feature participants racing on the river on stand up paddle boards, kayaks, surf skis, open canoes, outrigger canoes, and prone paddleboards.
If you consider yourself a good paddler, this one-day 100-mile speed race is the chance for you to be epic.
SUP Rentals Nearby:
Action Sports Rentals
Address: 915 Wall St Unit 1 Redding, CA 96002
Website: http://www.actionsportsrentals.org/
Services Available: Paddleboarding, ATV Rentals/Tours, Rafting/Kayaking
Hours: 
Mon 9:00 AM - 6:00 PM
Tue 9:00 AM - 6:00 PM
Wed 9:00 AM - 6:00 PM
Thu 9:00 AM - 6:00 PM
Fri 9:00 AM - 6:00 PM
Sat 9:00 AM - 6:00 PM
Sun 9:00 AM - 6:00 PM
Phone: (530) 440-2216
3. Slab Creek Reservoir
There are paddlers who take paddle boarding as a recreational activity and would prefer to do it a little more quietly to relax. Usually, a remote location is more ideal for such a group of people and the Slab Creek Reservoir is the perfect spot for them.
It lies quietly within the South Fork of the American River. Because of its remote location, not many people know about it. So you won't see any motorized boats or visitors in groups here. You won't have the whole place to yourself but it's pretty close.
The surrounding environment is idyllic and the water is flat and calm, perfect for a relaxing session of paddle boarding. It's one of the best places to enjoy paddle boarding quietly without any disturbance and little moments of solitude.
4. Jenkinson Lake
If you are expecting an exciting and adventurous trip on the water, the Jenkinson Lake is what you are looking for. Jenkinson Lake, also known as Sly Park Lake, is a well-known hotspot for water sports like paddleboarding and kayaking near Sacramento.
What you will find here is calm and clear water, beautiful beaches and magnificent scenery around the lake. It's also a popular destination for other outdoor activities like fishing, hiking, and biking, etc.
Paddle boarding might not be as popular as in other parts of California, but don't let that stop you from taking an interest in this wonderful sport.
If you have yet to start doing it, don't hesitate to give it a try. Get a board from quality brands like redpaddle or Goosehill SUP and prepare to have loads of fun. Those who can't find a suitable board can consider getting a custom made paddle board. Goosehill rolled out a service to make inflatable paddle boards according to customers' personalized needs. You will play the most important part in the making of the board which is designing the board. And in the end, you will have a board that's like no other. 
---