How To Choose A Race Board
Table of contents
1. What Board Sizes, Shapes and Features to Look For
2. Race Board Fin System
3. Inflatable vs Hard Board - Which One's More Suited To Racing
4. Deck Pad Design
Race SUP Board 
All SUP board can be used as a race board if you want to. To have the best performance, it's always best to opt for a board made specifically for races. 
If the board you use for racing is going to be the only board you'll buy, and you are going to be paddling on calm waters most of the time, then an all-around board would suit you better as it offers more comfort than a narrow race board on flat water.
What Board Sizes, Shapes and Features to Look For
There are different race classes and race boards made specifically for them. 12'6'' is the most common race class worldwide. The second most common class is 14'. A 14' board is typically faster than a 12'6'' boards. 
Most race boards of the said lengths are of 26'' or 28'' wide. Narrower boards usually have less drag and are usually faster. For most paddlers, 28'' is narrow enough as it won't sacrafice too much stability. But there are still paddlers who want to get the highest speed and they would opt for the narrower 26'' boards. 26'' boards would be faster but balancing bocomes a challenge and may distract you from achieving higher speed.
Race boards are typically rounded, usually have a flat tail and a low nose rock.
If you are going to use your board for paddling occasions other than racing, consider getting a touring board. A touring board is usually a little wider (at 30-32 inches) and offers more stability. It's also a great choice for a race board for taller and heavier paddlers.
Race Board Fin System
A single US fin box is the most common choice for a fin configuration as it has the least drag compared to other fin systems. Not to mention it can fit in fins of different sizes and shapes designed to its standard.
Fins of different sizes and shapes will perform differently in a race and you can further optimize the performance of your board by adjusting the position of the fin in the fin box.
In flat water, a single fin configuration would perform better than a three-fin system as it has less drag. But a three-fin configuration will offer more stability which becomes an advantage when you race in rough conditions.
Deck Pad Design
You will be standing on the deck pad the whole time in the race, so a well-designed deckpad could affect your performance greatly. You will be standing on the center of the paddle most of the time and on the tail when you need to take a pivot turn.
A deck pad that features diamond groove on it will offer you maximum traction, it's the best choice for racing in rough conditions. Otherwise, you'd be better off with a smoother surface as it's more comfortable for you to stand on especially if you have sensitive feet and will be paddling for longer hours.
Some board will feature an arch bar and raised edge at the tail to give the rider more grip for doing buoy turns. If the race you participate in involves doing buoy turns, it's worth considering getting a race board with an arch bar.
Inflatable vs Hard Board - which one's more suited to racing
Hard boards are still the mainstream choice in most professional SUP races, but inflatables are making its way into this realm.
So if you are going to be partcipating in some mainstream SUP races, a hard board is still the better choice here. But there are a lot of things to take into consideration before you buy one. For instance, a hard board is not easy to store or transport. Transporting a hard board is a lot of work, especiallly if your SUP trip involves air travel. Not to mention the shipping fee is going to cost a fortune.
And there have been professional SUP races with an inflatable class to allow participants to use their inflatable boards in the game. So an inflatable race SUP board is also a viable option. 
Best Race Paddle Boards 2022
1. Red Paddle Co Elite 12'6''
This race board from Red Paddle Co is one of the best options for the 12'6'' SUP racing class. The pointy nose combined with the 28-inch width equals a board that can slide through the water and glide wmoothly. The nose of the board reduces drag when a splash of water hits and directs the water to the sides of the board.


The pointed nose gives this board the ability to cut through any chop or small waves, and the rounded tail is able to stabalize the board in rough conditions and make it easier for riders to take a turn when racing. Also, with a large EVA deck pad on the top, the board can provide excellent traction even when it gets wet.
Additional features include an accessories mount which allows you to attach a camera or tracker on it, and two carry handles to let you carry and drag the board out of the water as fast as possible.

2. Sic Maui RS(14'0'')
The Sic Maui RS is for those who are looking for a board with the highest performance. The Sic Maui RS is one of the fastest SUP race boards in the market for the 14'0'' SUP race class.



The board comes with a package of high-quality accessories. First is the backpack with wheels. Others include a coil leash, a double-action pump, a racing-style fin and a repair kit.

The board itself is relatively lightweight compared to other boards of the same class. That doesn't mean it's of poor quality, the main reason for its lightweight is that it doesn't have any additional systems like cables, stiffening rods, or stringers. It has a classic construction of drop-stitch core with multiple PVC layers on the top and bottom for extra strength and durability.

It has a classic shape for a racing paddleboard with a narrow and pointy nose that gives it excellent glide. The deck pad is soft, comfortable and grippy. Overall, If you can't decide which racing board to get, you can't go wrong with this one.

3. Boardworks SHUBU Raven(12'6'')
The Boardworks SHUBU Raven is one of the highest rated race boards in many reviews and there's a good reason for that. It's well suited for open-water ocean paddling and paddlers of differnet skill levels.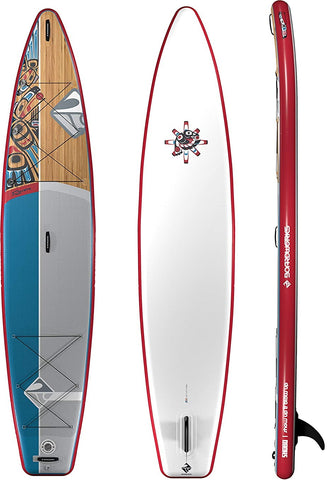 The displacement-style nose allows it to slice through the water and provide excellent glide and speed. It also features a square tail which makes it more maneuverable in the water.

IT has a self-venting plug that allows it to mediate the internal pressure through temperature and elevation change. The board has cargo tie-down points both at the front and back for paddlers to bring along some gears.

The honey-comb deck pad provides sufficient amount of grip and comfort for riders even during an intense paddling session.

This board is perfect for racing as well as long-distance touring.

---