Top 10 Paddle Board Brands on 2023 - Best SUP Reviews
Table of Contents
1.The Construction of  inflatable paddle board.
2.The Criteria of a Great SUP.
3.10 Best paddle board brands.

What are the Inflatable Paddle Boards Made of
Are you looking for the most reliable SUP board but have no idea which one is the best? Are you growing more interests in the versatile products but getting lost in the confusing parameters? Before exploring those top brands of inflatable paddle board in the market, you should know first what makes a great iSUP and how to make it.
Inflatable paddle boards are made by drop stitching technology that plays an important role to provide the infrastructural body for the board via the process of assembling two layers of PVC by weaving thousands of polyester or nylon threads evenly spaced.
The mesh between the 2 layers keeps the flat shape of the SUP inflatable despite the pressure, which agreeably allows a range of intensity from 15 PSI to 25 PSL. And then the sides are glued together with a layer of PVC to make an air tight chamber. With the other accessories decorating in their perfect place, a brand-new paddle board will be appearing right before your eyes.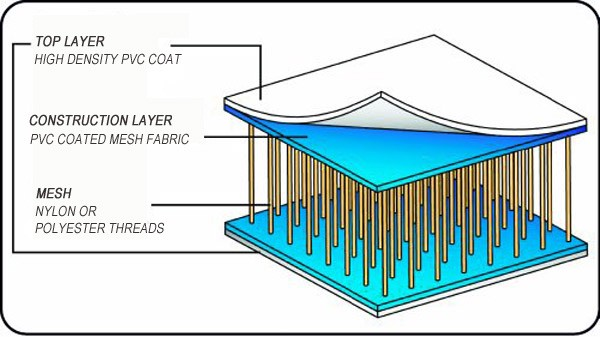 What are the Qualities that Make up a Great SUP
Since you have an idea of the way to produce such a board as we mentioned above, you need to enquire next what qualities should a great iSUP have. The board is practical by satisfying most general paddlers needs with tons of options out on the market, which also seems daunting to find a great one. So, what makes a good SUP great?
Material
As all we've known now, a SUP is basically made of PVC, nylon, glue and air. Therefore, a great iSUP boards should be presented by drop stitch material with top quality nylon strands that are close together to give the board more strength.
However, there are manufacturers using single-layer models as the construction of their products to have a quality of a little soft and less durable while others put into double layer fusion construction to build their boards more rigid.

Stability
One of the most important factors to consider when it comes to paddle boards is stability, especially for those with no experience stand up paddle boarding. The stability of the paddle board will have the biggest impact on how easy it is to stand up.
The more rigid and firm the paddle board, the more stable it will feel out on the water while paddle boarding. The more layers a PVC paddleboard has, the more stable it is generally, although too many layers can make the paddleboard too heavy and too difficult for younger and shorter paddlers to handle.
Lightweight
Inflatable paddle boards are designed to be lightweight for ease of transport, with most averaging right around 30 pounds. Overall, carbon is a lighter material that can reinforce the core of the board while still having the same strength as other heavier materials.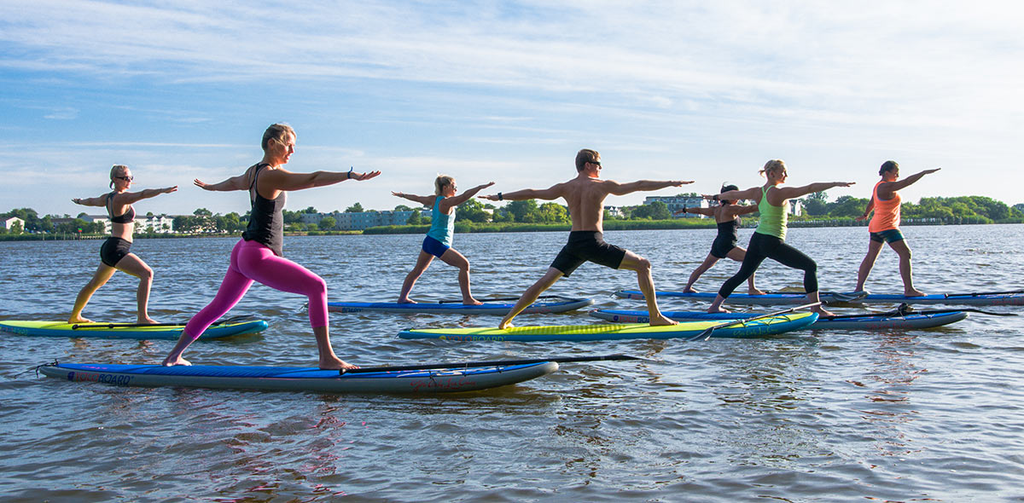 The Best Paddle Board Brands
So, with a clearer direction, I'm sure you're not a novice in the iSUP market right now. Next, let's explore the following 10 trusted brands.
(1) Goosehill
Goosehill is an international brand integrating paddle board design, research and development, production and sales. The product types include all-round paddle boards, children's paddle boards, touring paddle boards and racing paddle boards.  There are  perfect after-sales service system all across the world.
(2) BlackFin
BlackFin is a premium line run by the popular SUP company, It is famous for the beautiful design and colors, high quality accessories, etc. 
The inflatable SUP boards used to have a two-year warranty, however BlackFin paddle boards come with a three-year limited warranty, which is what most reputable manufacturers offer.
The best board of BlackFin has sturdy triple layer composite PVC construction, drop stitch inner core, and carbon fiber rails. Essentially, iRocker created a SUP built for any paddler, at any skill set, for any activity. 
(3) Thurso
The Thurso boards are generally popular for its the board design and how the board feels in the water. In addition, many of its accessories also attract most players due to their excellent creativity.
Thurso chose to make their panels from a double layer of PVC, which is both durable and has a high weight capacity.  They also added an extra layer of PVC + carbon fiber to the tracks for better protection and stiffness.
(4) GiliSport
Gili retained its core with a double layer PVC, carbon fiber track, in general, the board is a great inflatable SUP for anyone who wants a big board that is also light-weight but the lightweight-ness of the board does not hurt its performance.
(5) BŌTE
BŌTE is known for their sturdy and stable SUPs, and their newest model doesn't disappoint and has a ton of volume. It's also loaded with great accessories like BŌTE's super cool paddle sheath, rack mounts, loads of d-rings, along with front and back bungees. This SUP does a phenomenal job of combining and all-around board with a solid fishing platform.
(6) BlueFin
BlueFin is based in the UK and is the dominant player in Europe (probably the largest iSUP manufacturer there). In addition, the BlueFin Carbon literally comes with about every SUP accessory you could ever need, including: 3-piece fiberglass paddle, leash, single chamber dual action action pump, phone dry bag, and kayak conversion kit! 
(7) Atoll
Atoll does a good job of covering its bases with a board that is a mix of all-around and touring yet still lightweight and stable. Atoll is able to keep the weight down by using fusion technology in the manufacturing process.
The difference that the Atoll has compared to many other all-around boards is it's shape being more tapered in the front and back, giving it more of a touring/cruiser shape. This design makes the Atoll a super fun board to paddle. It's fast and glides through water very easily.
(8) NIXY
As far as materials go, NIXY has created a super light board due to their dual layer FUSIONtec technology. At just 20 lbs, the Newport is always one of the lightest boards on our top SUP list, but with the addition of carbon fiber rails you don't sacrifice the strength or durability of the board.
The Newport makes for a great inflatable paddle board that can be utilized for a variety of activities and is highly recommended for those people looking for a more nimble, playful, all-around board.
(9) Sea Gods
The Sea Gods is worth considering because of it's incredible artwork and it displays stellar performance on the water. If you're a person that values artwork and aesthetic appeal as well as high performance, quality construction, and great weight support, the Sea Gods will be a phenomenal fit and more than meets the mark in the all-around SUP category.
(10) Red Paddle
Red Paddle makes some of the best paddleboards in the industry which is lightweight about 22 lbs, but has great rigidity and stability. The best Red Paddle board is the brand new speed tail, which breaks up the water for reduced drag for an even faster SUP.
---