What Are Some Basic SUP Equipment to Get
One of the reasons why stand-up paddleboarding can get so popular in such a short time is that it's actually a pretty simple sport.
There aren't many things needed for you to get out on the water and the skills are fairly easy to master as well.
The most important thing is to keep yourself safe and comfortable on your paddle board when you are just starting to paddle.
And to do that, you are going to need some basic SUP equipment.
Basic SUP Equipment
Boards
For a beginner who doesn't have much experience in stand up paddle boarding, a nice suitable inflatable paddle board would go a long way to making the learning process much easier. An ideal paddle board would be one that's wide and stable and easy to stand on. A good inflatable paddle board for beginners is a mid 10-feet size board which is about 10'4 to 10'8. And the appropriate width to start with is about 32inches. The taller you are, the wider your board should be.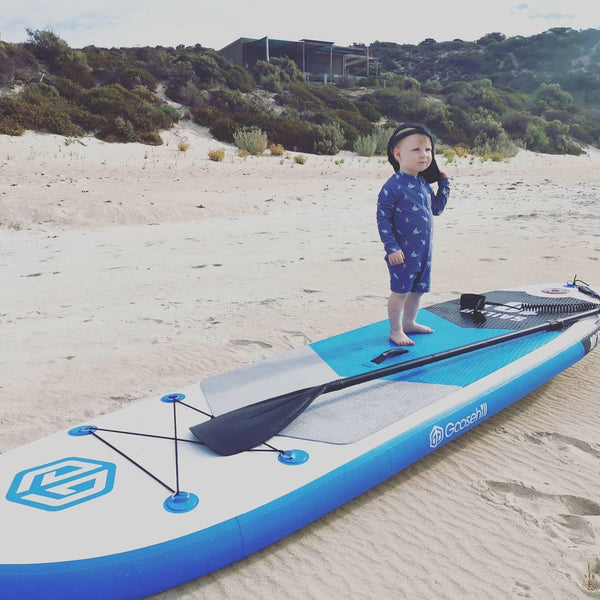 Paddles
The paddle is just as important as the board in paddleboarding because you won't be able to paddle if you don't have a paddle. Choices for a paddle are abundant. You have basic, cheap ones as well as high-end carbon fiber paddles. One important parameter to pay attention to is the length of the paddle. Most paddles that come with the board are adjustable paddles. We suggest that you adjust it to about six to eight inches above your head when you just start to paddle. You shouldn't care much about the weight of the paddle. Of course, it's nice to have a light paddle but it's more of a bonus feature to have on your paddle. The most important thing to pay attention to when choosing a paddle is the blade size. You might not want a paddle with a large blade in the beginning as it would put too much pressure on your shoulders when you perform a stroke and potentially cause injury. You would have a much easier and more comfortable ride with a smaller blade size. Larger size blades are better for people who are bigger and taller and have more muscles around their shoulders.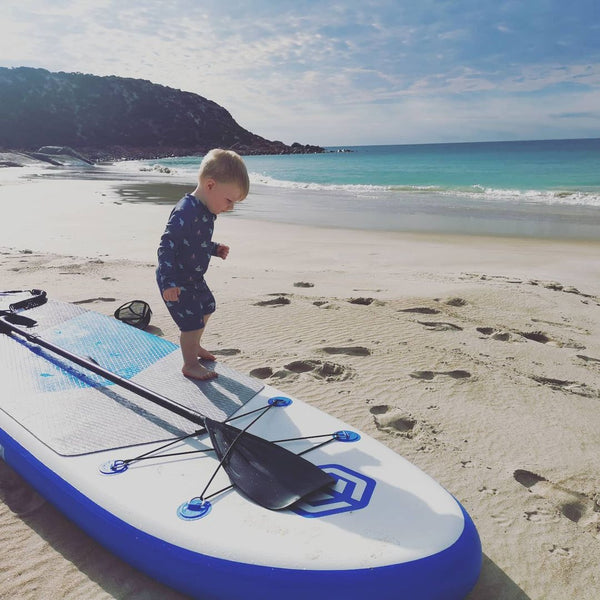 Fins
Fins are an essential part of a paddle board without which you wouldn't be able to paddle. If you paddle on your SUP board without the fin, you would probably wind up going around in circles. What the fin does is that it helps you track or go in a straight line. When you paddle, the fin will cause drag at the back of the board and slow the tail of the board down to help you move in a straight line. You can find fins in a lot of different shapes and sizes and different SUP boards might even have different amounts of fins on them. In general, if your board only has one big center fin, then it's mostly for cruising or leisure paddling. Performance-based boards usually come in three to six fins, like SUP boards made for surfing or whitewater paddling. There are boards with fixed fins on them, if you do want to buy a board like this, you should check and ensure that the fins are supple so that they won't be easily damaged when you hit something hard during your paddle boarding session.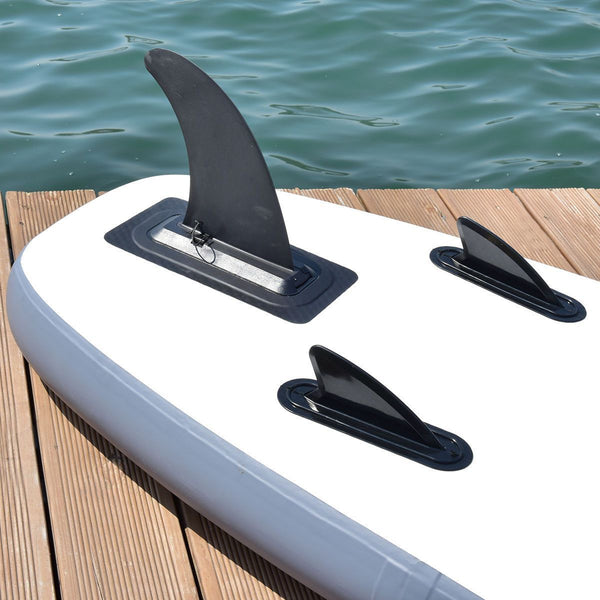 Leashes
A SUP leash is another essential piece of SUP equipment to bring to your SUP session. A SUP leash keeps you attached to your board so that the board won't be out of your reach when you fall off. If you go paddle boarding without a leash and it happens to be a windy day, you'll probably end up having to swim after the board to get it back. Also, your SUP leash can't function as a buoyancy aid, so be sure you put on a buoyancy aid before getting out on the water even if you've put the leash on.
For the sake of your own safety, we would recommend that you get a leash with a quick-release harness which would allow you to quickly release the leash when you are in a dangerous situation like being tangled around trees or branches.  
Personal buoyancy
Most people go paddle boarding with buoyancy aids on, and it's a good habit to have. In some places in the world, buoyancy aids are required if you want to paddle or kayak there, and that's why you might see some people having their buoyancy aids tucked in at the bungee straps. Our advice is always to put them on, especially for those who are not very confident in their swimming or paddling skills. The only drawback might be that if you do fall in, it's harder for you to get back on the board because you have the buoyancy aid on which adds a few inches or paddling around your chest. A waist strap or an inflatable life jacket are two popular choices for paddlers. They can provide you with the support you need when you fall off the board. So be sure to put your buoyancy on at all times when you get out on the water.
SUP clothing
If you will be paddling a lot in the future, we would recommend that you get some SUP-specific clothing which could greatly improve your SUP experience. If you live in a place with a cool climate, a good choice to start with is a wetsuit, especially if you will be getting in and out of the water frequently. If you are in a warmer place, a thermo top would work just as well. Most people choose to go paddle boarding on hot days, in this case, you might want to consider finding a paddle-specific t-shirt to keep you cool.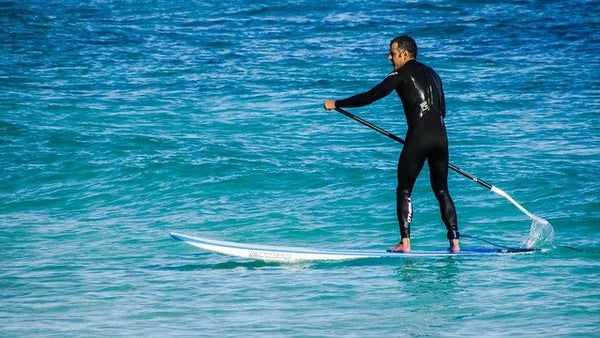 Footwear
If you can bear going barefoot, it's always a good choice to go barefoot as you can get enough amount of grip so that you don't easily slide off the board. Going barefoot also lower the odds of you getting cramp. If you are not used to going barefoot, you can always wear shoes or even flip-flops. Chances are your toes will struggle to get the grip on the base of the board resulting in cramps on the base of your feet. So go barefoot if you are okay with it. If you don't want to go barefoot, try to go with a nice pair of wetsuit boots to keep your feet nice and warm. Rubber boots are not an ideal choice as when you fall into the water, they can easily fill up with water and pull you down. It could be a bit of a threat to your safety when you fall in. So in conclusion, go barefoot or pick a nice pair of wetsuit boots.
Dry storage
If you want to bring some personal belongings along and you don't want to get them wet, dry bags are what you need. You can find dry bags of different sizes ranging from 5 liters up to 60+ liters. Just stash it under the bungee straps on your board when you paddle so it won't get in your way or be a burden during your SUP session. Some people might not want to be disturbed when they paddle, so they might choose not to bring their phones with them. But for safety concerns, we would recommend that you bring your phone along so that when you need help, you can call someone. A small dry bag to put your phone in would be enough.
Above are some basic equipment you will need in stand up paddle boarding. You don't need to prepare a bunch of accessories in order to enjoy the sport. just get the basics and have fun.
---