Inflatable vs Hard Paddle Boards - What Should First-time Paddlers Get
Inflatable VS hard paddle boards
Inflatable vs hard paddle boards - which one should I get? It's a frequently asked question from a lot of first-time buyers of stand-up paddle boards.
It depends on what you want to do with it. An inflatable stand-up paddle board is best for relaxing entertainment activities like fishing or touring.

And the rigid boards are mostly used for surfing or racing. An inflatable SUP board is typically thicker, making it harder for you to glide smoothly. It's not made primarily for you to travel fast and glide well. It's not that it couldn't be fast, but compared to a rigid race board, it's significantly slower. There are various kinds of SUP boards on the market and most of them aren't that different when it comes to glide and speed performances. But a hard board would absolutely be faster when used for racing.


If you decide to have a quiet or relaxed time on the water, then an inflatable stand-up paddle board is definitely the better option here. As is said previously, the overall performance of inflatable SUP boards on the market aren't so different, The performance gap between SUP boards of different price ranges might not be as big as you'd think. So if you are a beginner or don't go on the water often, it's suggested that you start with a mid-range inflatable SUP board. Common things you can do on a SUP board including touring on a long river or a big lake with beautiful view, fishing, doing yoga. Typically there would be 4 rings on a SUP board for you to fasten your belongs or even a chair on it.


If your plan with the board is surfing in the ocean, then a hardboard would be more suitable. Since it's harder, thinner and usually heavier than an inflatable SUB board, it's naturally more stable and you would be less likely to fall when surfing on it than on inflatables. But an inflatable stand up board is easier to transport as you can let the air out when not in use and put the board in a backpack. Inflatable SUP boards would be much easier for you to transport than a rigid board. A rigid board would take up a lot of your space and requires your car to be big enough for fitting it in.
Inflatable vs hard paddle boards
Advantages of inflatable stand up paddle boards:
1. Lighter
2. Easier to transport

Disadvantages of inflatable SUP boards:
1. Less durable than rigid boards
2. Glide performance is not as good as a hard board
3. Not as stable as hard boards

Advantage of rigid boards:
1. Better glide performance on the water
2. Faster speed
3. Steadier
4. Easier to maneuver
5. More durable

Disadvantages of rigid boards:
1. Heavy
2. Takes up more storage space
3. Harder to transport and carry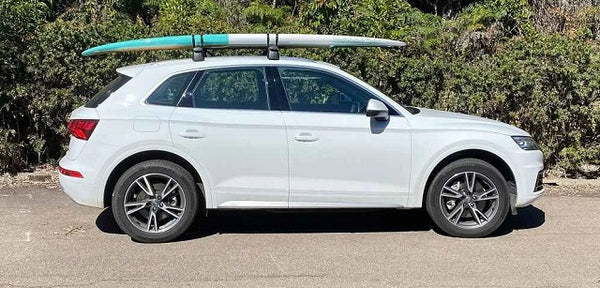 To sum up, for surfing, racing or long-distance touring, a rigid board would be better, but you will have to deal with its large size and problems that come with that. An inflatable SUP board is generally more suitable for relaxing activities like yoga, finishing or cruising on a lake. As your paddling and balancing skills progress, you can move on to something more challenging like SUP surfing or SUP yoga. One of the reasons you should try SUP yoga is that it will also help to improve your balance, which is essential if you want to take on other challenging SUP activities like surfing.
---