Practical Tips for Winter Paddle Boarding
Stand up paddle boarding is now one of the most popular sport during summer. And most people only do it in the summer. But there are exceptions. Paddle boarding in winter is also very fun, but at the same time requires more safety precautions and attention. If you want to go paddle boarding in winter, you must be well prepared. Here are some safety tips you should know before you go paddling in winter.
Safety tips for winter paddle boarding
Check the weather forecast
Knowing the weather is an extremely important step that can get ignored easily. You need to know the temperature of the air as well as the water. Try and look for a place with calm winds and a clear sky. In some places, the weather can change quickly, so be more careful. If it starts to rain or the wind is starting to blow strong, get back on shore as soon as possible. Moments like this is not a good chance to try to challenge yourself so just don't.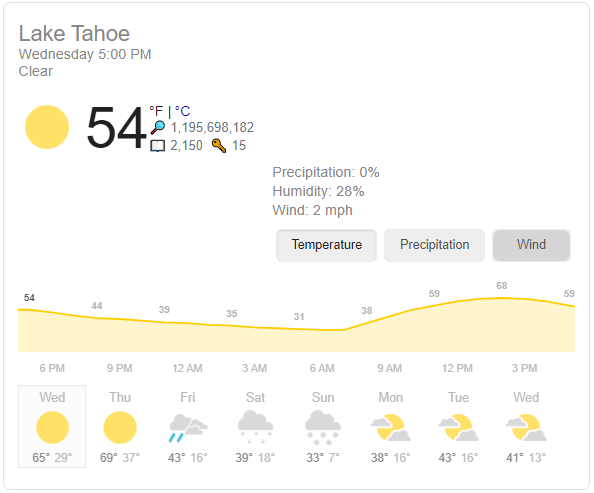 Bring the right gear
Your gear plays an important role in your winter SUP session. If you are serious about going out on cold weather, you need to have the proper gear.
Be sure to keep your feet warm. One of the best choices for this is booties. 5mm or 7mm wetsuit booties are great choices to go with. They are usually at the lowest price point in summer, so if you want to save money, buy them off-season. Running tights are very suitable for paddling on cold water. Use a pair of thin gloves to keep your hands warm, and make sure the gloves have a little grip in the palm so that you can still hold your paddle firm with the gloves on. Also, wear a lightweight hat to keep your head warm. Anything that is made of cotton is not a wise choice for paddle boarding in cold weather.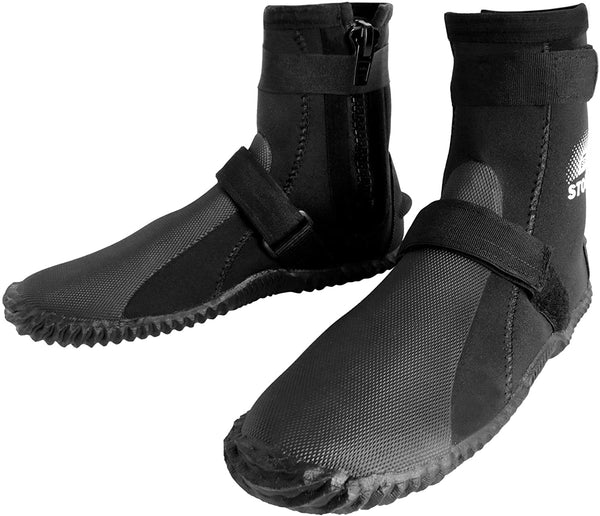 Stay close to shore
If you want to stay safe, the best choice is to stay close to shore. The water is going to be very cold, so if you don't want to risk hypothermia, do not go too far. If you are far away from the shore, you might not be able to swim back when you fall. Remember that the distance you can swim is much shorter in cold water than in warm water. If necessary, change your paddling route accordingly to keep yourself close to the shore.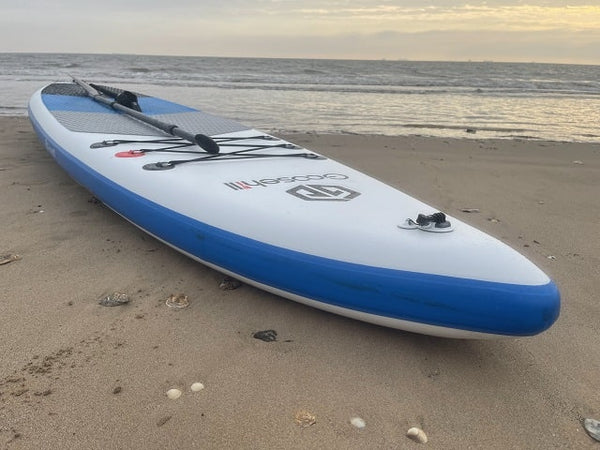 Put your leash on
Put your leash on no matter where you go. The SUP leash is needed even when you are paddling in warm weather on calm water. The leash can keep your paddleboard close to you when you fall and you can use it as a flotation device.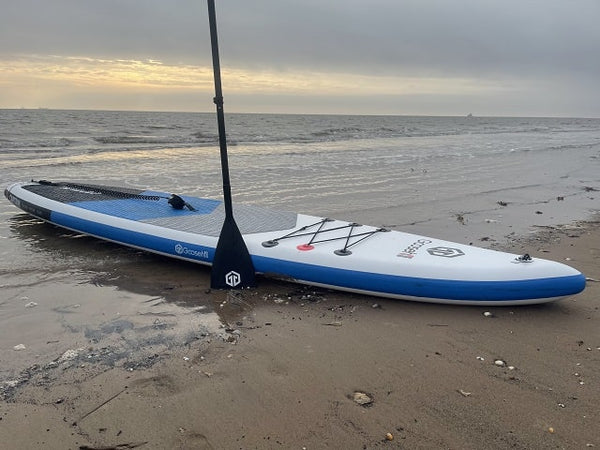 Should I wear a wetsuit or a drysuit?
A wetsuit can still keep your body warm when you fall into the cold water, so if falling into the water is expected, a wetsuit is the best choice. A drysuit offers you more protection and is waterproof. But if you are going to be paddling on calm water and the risk of falling is very low, then you may wear a drysuit, or wetsuit, or neither.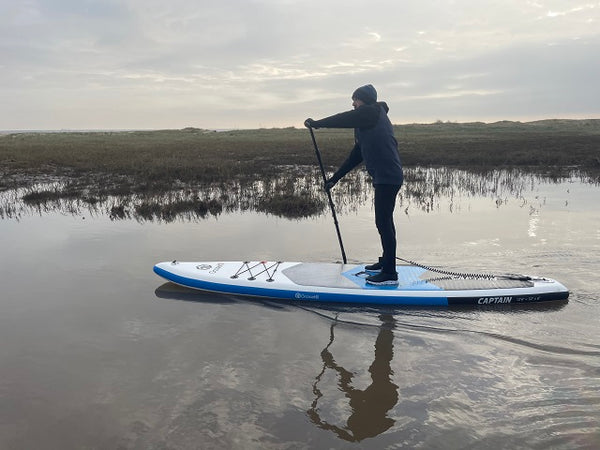 Avoid ice
Ice can be dangerous for your SUP session. It's heavy, sharp, and hard to predict. If the place you are going is going to have ice in cold weather, the right thing to do is find another place, but if you insist in going, make sure you stay away from those chunks of ice.
Don't paddle after dark
The temperature is going to drop when the sun does down. And the sun will go down a lot earlier than in the warmer months. So plan your trip accordingly and make sure you can get back to shore before sunset.
Don't paddle by yourself
For paddle boarding, the more people the merrier. It's not only because you can have someone to talk to during paddling, also you will have someone to help you when you are in danger. It's recommended you bring someone with you for your SUP session at all times, not only during winter. If you can't find someone or insist on going alone, let your friend or family know where you are going and when they can expect you back. And call them after getting back to let them know you are safe.
Bring food and clothes
It's recommended you bring some extra warm clothes so that you can change after getting back from the water. You can keep things like a towel, a warm sweater, pants or a coat in your car in case you need to change. Also, food is important if you are going to paddle for long. A warm drink will help you recover from the cold quickly.
And as always, a personal flotation device(PFD) is always a must.
There are a lot of wonderful places for paddle boarding in winter. If you are really into stand up paddle boarding, don't let the snow on the ground stop you from enjoying the sport. It's okay to go out and paddle in cold weather, just be prepared and you'll be fine.
---