6 Must Know Tips when fishing from a paddle board
Table of Contents
1.Choose the Right Gear
2. Practice Padding Beforehand
3. Bring a SUP Cooler and Gearbox
4. Check Weather Conditions Before You Go Out
5. Be Prepared for the Unexpected
6. Don't be Afraid to Wade
SUPs present a solid workout opportunity, a fun floating option for sunset cocktail hour and a fresh way to tour waterways with friends. For many anglers fishing off a paddle board becomes their favorite way to fish.
But, you can't quite get the hang of it and you've realized it is a lot harder than fishing from the bank of a river. Don't worry, you've come to the right place! That's why we have come up with some tips for SUP fishing beginners. There are a few things to keep in mind when fishing from a paddle board. With a little bit of preparation, your fishing trip will be more fun and productive.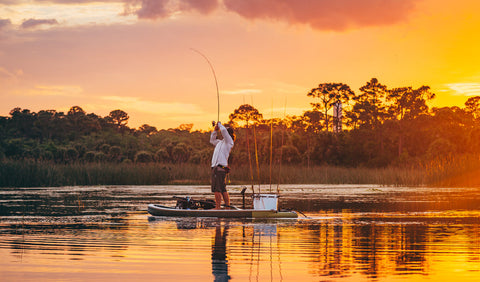 Choose the Right Gear
First things first, it is crucial to choose the right gear. The right board could make or break your trip. Believe it or not, not all stand up paddle boards are stable, which means they are not very friendly for fishing for a couple of different reasons. For instance, some are engineered for racing, extra long, narrow and difficult to stand on. 
A right stand up fishing paddle boards should be long and wide, with a high weight capacity. The large platform helps with stability and allows you to bring a lot of gear.
While some brands manufacture fishing-specific SUPs, the truth is most all-around will work fine for fishing, like Goosehill's sailor SUP board.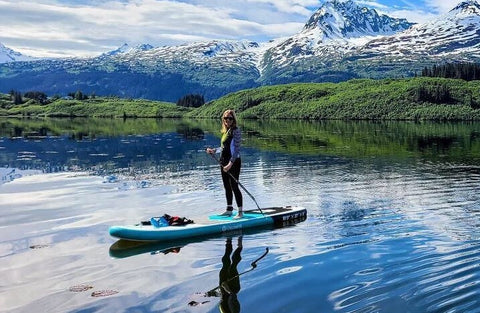 Practice Padding Beforehand
Paddle your board around and get familiar with how it handles beforehand. This is even more important if you're a newbie. Knowing your SUP board and how it performs gives you confidence, it also makes it easy for you to handle different situations while on the water.
You may be an incredible fisherman who catches large sums of fish on every trip, but if you can't remain stable on your board, you won't be catching anything. The more you paddle the quicker you will master your board. And you need to be good with your board in order to paddle board fish.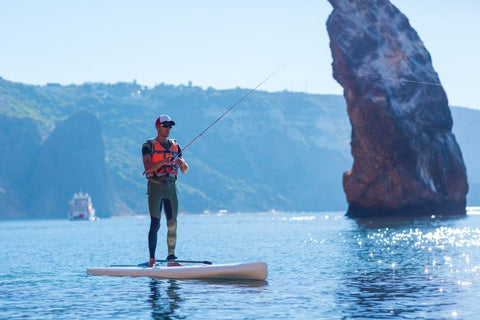 Bring a SUP Cooler and Gearbox
A gearbox and a SUP cooler with the rod holders are must-have for stand up paddle board fishing. They serve several purposes and will save you so much time from not having to turn around and/or bend down to get your fishing rod.
A SUP cooler ensures that you have a nice cool drink to quench your thirst all day long. Plus, it's also where you will store your fish. In addition to acts as a storage space for your gear and potential catch, the solid variety can double up as a seat. You can alternate sitting and standing so you don't get too tired. While the gearbox allows you to keep all your tackle and other gear dry in one easy-to-access space.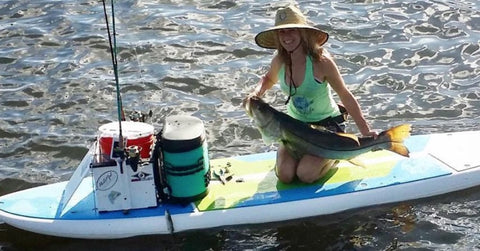 Check Weather Conditions Before You Go Out
It is a good idea to plan your SUP fishing trip beforehand; take into account the weather conditions, especially the wind. Use the wind to your advantage, don't fight it. If you fight against the wind, it will give you problems and stress you out. Try to find areas where you can use the wind to float your back. In fact, it could save you from having your return trip become a disaster. Of course, you can bypass all of this if you look at the weather and go on a calm day.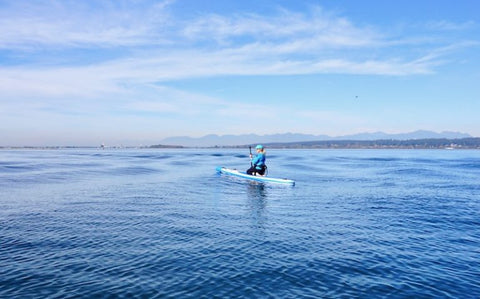 Be Prepared for the Unexpected
With any SUP adventure, you will want to be prepared for the unexpected. Don't forget wear your SUP board leash at all times. The leash keeps you attached to your paddle board. If you fall in, you will be able to get back on in no time.
If an emergency were to occur, a PFD could ultimately end up saving your life, so be smart and wear a life jacket. When you apparel in well-traveled waterways, wearing brightly colored life jackets can be a signaling device to help them spot you. In addition to keeping you afloat, fishing life vests have extra storage for other accessories.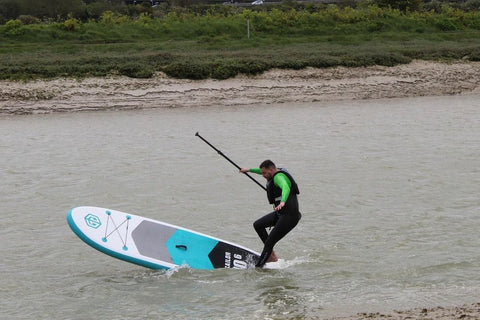 Don't be Afraid to Wade
We understand that fishing from a SUP is fun and exciting, however, there will be times when you'll need to get off the board--maybe you hooked a monster and you need to land it on shore. Or your chances of landing that trophy fish go up if you are off your board. When you are in a spot that provides you the opportunity to wade, do that.
Maybe you need to portage over sharp, slippery terrain, that's when things get tricky. In this case, you'll be able to handle hazards much easier and safer when you wear wading boots. Soles can help with those slippery rocks. All in all, don't be afraid to wade, You will have an awesome experience!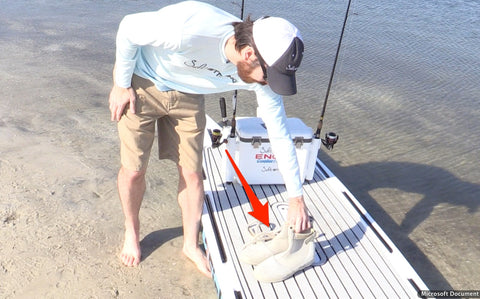 Hooking a big fish on your paddle board is the most interesting and fuel-efficient ride in town! Just make sure you have all of your gear organized. Hopefully, the above SUP fishing tips will help you stay safe and have a wonderful time.
---