6 Paddle Board Accessories for Even More Fun in 2022
Table of Contents
1. GoPro
2. GoPro Mount
3. Waterproof Speaker
4. Wetsuit
5. SUP Light
6. Floating Sunglasses
If you're like us, then you enjoy getting out on the water paddle boarding. It's a great workout and will release your pressure. But what if I told you that it can be even more exciting? There are a lot of products on the market to make your paddle board more functional and fun and spend an afternoon on the water.
So, if you're looking to expand beyond that leash and paddle, then let us share some of our favorite SUP accessories. With these, you can listen to music, record your wonderful moments with your family and friends and even be safer in the water. Now without any further ado, let's jump right in and check out this must-have gear in 2022.
GoPro
If you're already a SUP aficionado, maybe you've been using your iPhone to capture the gorgeous aquatic scenery or record your most epic moments on the paddle board and share it with your friends and family. While you're already aware that your cell phone leaves a lot to be desired in instances when you're trying to film what you see and maintain balance on the board. 
Now, you don't have to keep reaching for your phone every time you want to capture a special SUP moment. A GoPro is one of the many paddle board accessories that can enhance your paddle board experience. You can attach the gopro directly to the nose of your board, or you can also take POV shots by mounting it to your helmet, chest or wrist and capture all the awesome adventures that your partake on.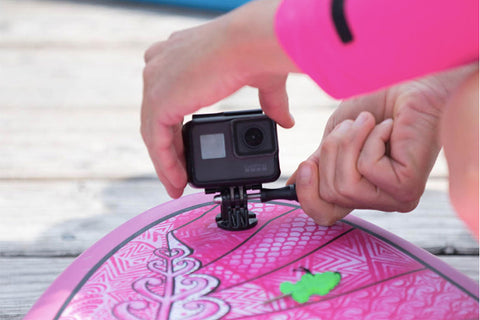 GoPro Mount
So you've bought yourself a perfect GoPro, but It would be challenging to paddle while trying to capture moments at the same time. GoPro mount is a great option for SUP because it leaves you hands-free. So, you don't have to face the hassle of holding anything.
A super-versatile GoPro Bite Mount supports the GoPro well and lets you record some stunning, hands-free POV footage. You can film your action from different angles and achieve a smooth, shake-free output. However, you must make sure to check out some videos about proper installation before attaching this mount. If not mounted properly, it can pop off.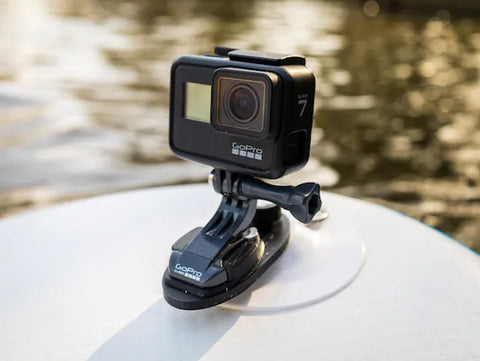 Waterproof Speaker
Do you know what would make your SUP experience even better? Music! You can listen to your favorite music as you paddle leisurely, letting all the stress melt away. Waterproof Speakers are essential for a paddle boarding session. There is just no substitute for the ability to take your playlists and listen to your music out on the water.
A good quality speaker should be completely waterproof and produce crisp, clear and impressive stereo sound. You can even pair multiple speakers, so everyone has the perfect sound quality on their board. It can be easily attached to the bungees or D-rings on your board so it can't fall into the water.
A waterproof speaker is a great SUP accessory that everyone should have. Just picture this summer, cruising with your crew across the lake. Is there anything better than paddling to a beat?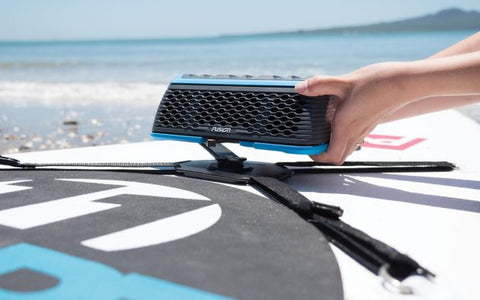 Wetsuit
A wetsuit is designed to keep you protected and warm. When water and air temps are cooler, then it's important to have something that will keep you warmer to prevent hypothermia or other problems. It' also useful to wear a wetsuit for SUP, which can protect your clothes and skin from getting damp as well as protecting you from UV rays.
For any beginners and those who plan to take their SUP into the waves and surf, a wetsuit may be a good idea. Even just a shorty wetsuit will help to maintain your core temperature should you fall in, meaning you can stay out for longer without getting cold.  
As a general rule, wetsuit for paddle boarding need to be thinner and more flexible than diving or surfing wetsuit. Since paddle boarding call for higher sensitivity, a higher range of motion, and better body heat management.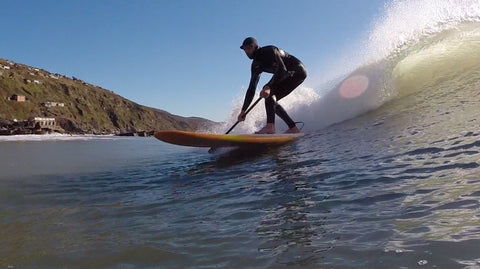 SUP Light
Who said paddle boarding can only be done during the day? If you have never gone paddleboarding at night, you're missing out. The waterproof paddle board lighting kit would be an excellent tool to have if you want some night time paddle boarding on your own.
With bright-enough lighting, you can paddle at night without fear of hitting something or falling into the water. In addition, they can function as emergency lights for rescue boats, if conditions become extreme while out on the water. It is also a safety tool for boaters to see you at night if you like to SUP in the evenings when there is low sun light--not just in emergencies!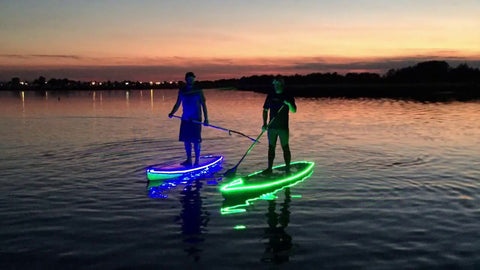 Floating Sunglasses
Protection from the sun is very important, especially when you are on the water for a long time. In addition to protecting your skin from the sun, you need to protect your eyes too. Floating sunglasses are an accessory that every paddle boarder should have.
The sun's glare can ruin your paddle boarding experience by hindering your vision and causing eye strain, while a pair of sunglasses can shield your eyes from being blinded by the sun. However, it's a real blow if you drop your sunnies and they sink to the abyss never to be seen again. This is where floating sunglasses come into play, as they won't end up at the bottom of the lake. Grab yourself a pair of these glasses now and watch how cool you look when they float on the water.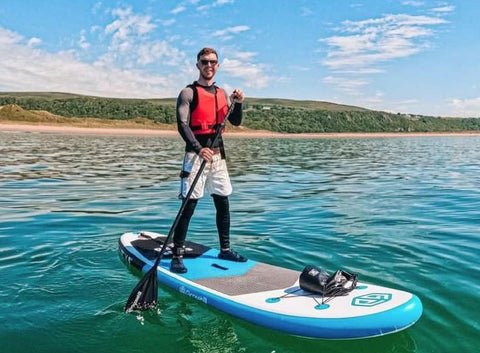 ---