8 of the Best Places for SUP Boarding in Melbourne | Goosehill SUP
SUP Boarding in Melbourne
Melbourne is one of the cities in Australia that a SUP boarding enthusiast should visit.
In Melbourne, water sports are most people's first choice for outdoor activity in summer.
Among all those water sports, paddle boarding is the perfect fit for Melbourne's hot summer. 
If you are in search of a place to go paddle boarding in Melbourne, don't miss out the list below.
Here we've rounded up 8 places in Melbourne where we think you, as a paddle boarding lover, should pay a visit to.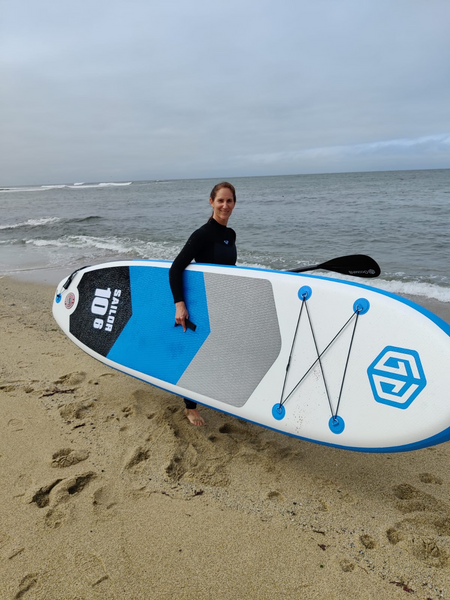 Want to enjoy paddle boarding in Melbourne? You need a nice, reliable inflatable stand up paddle board.
1. St. Kilda Beach
Many people have the old impression of St. Kilda Beach being full of people, dirty and underwhelming. It was true but things have changed a lot and become better in St.Kilda Beach now and it still remains as a classic. You are not wrong about it being messy in the past but there's been a campaign to clean it up and thanks to that, the place is now much cleaner and equipped with better facilities, which makes it a great tourist attraction, again.
On a nice day with beautiful weather, you can frolic around watching people on the beach and looking out at the magnificent Port Philip Bay. It will get crowded at some point because it's St.Kilda after all. So it's suggested you plan your trip accordingly and you may stop for a hipster coffee and brunch after finishing your SUP session.
2. Mornington Peninsula 
Melbourne is so full of great paddle boarding places that we really have a hard time trying to pick out our favorites. But here's one that constantly sticks in our mind: Mornington Peninsula. Anywhere from Rosebud to Safety Beach to Mount Martha can offer you with a great day of paddle boarding. The most recommended spot for paddle boarding would be Mount Martha with its shallow and clear water. But don't just stop at one place, go ahead and see more, I'm sure you will find more surprises along the way.
3. Barwon River
We may have drifted slightly off-course and towards Geelong, but especially if you live on the west side of Melbourne, Geelong's going to be just as close as making a trip the whole way around the bay. Although we're here to make a case that if you are on the East side of the bay you occasionally skip out on Mornington and come to the other side.
Barwon River at Barwon Heads is a great spot for SUP, especially those last few kilometres before reaching the beach. The water is calm and you can watch the banks of the river as you slowly mosey down. It's the kind of place that you would like to visit once in a while. If you are just learning how to paddle board, it's also a great place to start your very first SUP trip.
4. Eastern Beach
The Eastern Beach is part of the Geelong Beach and another great spot for SUP. It's located right in the middle of Geelong. Not only paddle boarding, if you are into other outdoor activities, the place is also great for camping, picnic, etc. All in all, it's a place you can spend a whole day doing different things and have fun.
It is right in the middle of Geelong, and although there is generally sufficient parking, if you're heading out in the middle of summer try to get there early to avoid some of the crowds!
5. Yarra River
We've returned to smack bang in the middle of Melbourne and for all its bad publicity over the years (you definitely shouldn't drink the water but it also isn't going to dissolve any limbs!) the Yarra River is a great place to SUP if you know where to go. We would recommend launching from either opposite Fed Square or from the Fairfield boathouse.
6. Lysterfield Lake
Less you think that we've forgotten about some of the more suburban areas of Melbourne here's a great pick out in the South Eastern corridor. Sure, it may not be quite as picturesque as the Mornington Peninsula but on a quiet and still day you'll be surprised at how nice it can be! You may even forget you're still in suburban Melbourne. Arrive early and enjoy paddleboarding around the perimeter.
7. Lilydale lake
Trying to make sure we get ALL areas of Melbourne and surrounds catered for, and if you're in the Outer East and only have an hour or two to SUP, a trip to the Lilydale Lake may be just what you need! It's got a perimeter of around 2 km and it's easy to launch, making it a very convenient option when you don't have time to get to the Bay.
8. Maribyrnong River
Finally, the North/West makes an appearance! Whilst not as famous, and we'll be honest, not as pretty as the Yarra, the Maribyrnong River is a good choice for SUP if you're in a rush and want to get in a good paddle. Launch from Flemington and take in the sights of Melbourne as you lazily paddle down the river.  
When is the Best Time to Visit Melbourne
March to May and September to November are the best time to visit Melbourne. By visiting Melbourne in these two time periods, you can avoid extreme temperatures and tourist crowds. And airfare rates are typically lower than other times in the year. Australia's summer months are usually from December to February, hot and crowded with tourists. But if you don't' mind the crowd, you can seriously consider coming during summer because the heat is actually less of an issue for water sports like stand up paddle boarding. During winter times which is from June to August, there will be fewer tourists but the water would be too cold for water sports. But if you are confident about your SUP skills and can make sure you won't fall, you can come in winter as well.
For lovers of stand up paddle boarding Melbourne is one of the cities that you would enjoy staying in and paying a visit. And Melbourne has way more wonderful SUP boarding spots to offer than those we've listed here. No matter if you are a skilled enthusiast or beginner of stand up paddle boarding Melbourne is able to offer you the most suitable spot for you to have a nice SUP session.
If you have yet to try paddle boarding, it's never too late to start. And the SUP board you choose is important. A good paddle board would go a long way to making the learning process much shorter and easier. It's suggested you, as a beginner, get an inflatable SUP board since they are more stable, cheaper, easier to transport and more durable. Brands you should check out include Goosehill SUP Board, Redpaddle, etc.
---