Best Places for Paddle Boarding in Utah | Paddle Boarding Near Me
When you talk about paddle boarding Utah might not be the first place to come to mind.
But the city is home to a lot of wonderful stand up paddle boarding spots.
It can pretty much satisfy the needs of paddle boarders of different skill levels.
If you live in Utah, read on to find out where you can go stand up paddle boarding in Utah.
A good inflatable paddle board would go a long way to improving your SUP experience. If you have yet to get a board and start paddle boarding, be sure to check out our Goosehill Sailor Inflatable SUP board.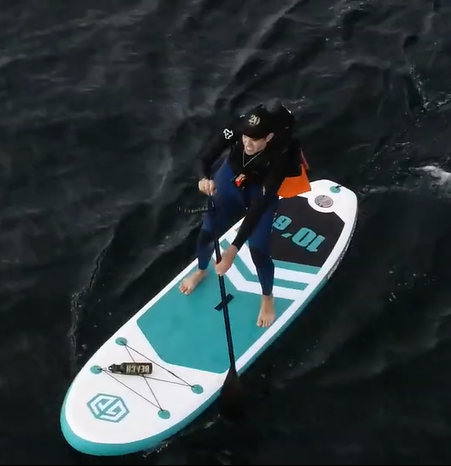 Paddle Boarding in Utah
Sand Hollow State Park
Sand Hollow State Park is one of the most scenic spots you can find in Utah for paddle boarding. The blue water is warm and the red sandstone landscape is welcoming. It's a relatively new park, thus attracting more visitors than you'd think. But thanks to its large 1322-acre reservoir, you won't find it crowded at all. The reservoir also provides sandy beaches around it for taking breaks and the water is warm and calm for a leisure session of paddle boarding. If you are also into off-road adventures, be sure to check out the dunes nearby. One day might not be enough for exploring the whole place so camping is also a great option.
Jordanelle Reservoir
Jordanelle Reservoir is located near downtown Salt Lake City. It'll only take you about 40 minutes to drive there. The water is calm but the frequent appearance of vessels like jet skis or boats could get in your way and make the water unnecessarily choppy for a casual session of paddle boarding. The place will usually be filled with large vessels pretty quickly on weekends, so the most ideal time to come here and have a quiet trip of paddle boarding would be on weekday mornings. But if you are okay with it being a little noisy and crowded, then you can come at any time. Since boats are commonplace here, the boat wake could be a problem for beginners. If you are still struggling to balance on the paddleboard, you might want to practice more before actually coming here.
Highland Glen Park
The Highland Glen Park is one of the most ideal destinations for a leisure and a quiet weekend of relaxation. The pond inside the park, although being significantly smaller than other bodies of water we recommended, is very flat and suitable for beginners to start their first SUP trip and practice their paddling skills.
Utah Lake State Park
Being the largest freshwater lake in Utah, Utah Lake is an extremely popular destination for water sports lovers. Swimmers, paddlers, boaters, and kayakers can be spotted everywhere. If you are planning on spending a few more days here to explore the place more thoroughly, consider camping here because it has an RV campsite for people who want to camp and stay the night. It's a great place for you to have fun on the water either by yourself or with your family and friends.
Mirror Lake
If paddle boarding is not the only weekend activity on your to-do list and you want to go hiking after paddle boarding for a while, go to Mirror Lake. It's right next to the Uinta Mountains and beautifully reflects the nearby snow-capped mountains. It's recommended to go hiking if you want to better explore the whole place. The lake is also rich in different species of trout so you can have a good time fishing in here if you want to.
Silver Lake Flat Reservoir
If you prefer to go stand up paddle boarding in a remote location with less disturbance from other people, Silver Lake Flat Reservoir would make a great destination. The lake is located rather remotely and is surrounded by rows of lush trees and beautiful snow-capped mountains. It's not particularly peaceful and quiet during summer weekends, but there are still times when the place is significantly less crowded. Also, if you like fishing, you should be happy to know that the lake's got various kinds of fish like arctic grayling, brook trout, and rainbow trout. The place is a great weekend destination so you might want to spend the night camping near the reservoir.
The Great Salt lake
If you are a rookie in paddle boarding Utah has the Great Salt Lake for you. What makes it the best spot for newbies of paddle boarding in Utah is that it's the biggest salt lake in the Western Hemisphere. You will have extra buoyancy when paddle boarding here. The most important reason why it's on the top of our list is that due to its high percentage of saline content, it reflects light very differently, creating a unique scenery during sunrise and sunset. Since the water is highly salty, there will be salt accumulating on your board possibly damaging it, so remember to clean your board after finishing your stand up paddle boarding session.
Lake Powell
Lake Powell is one of the most beautiful lakes in America. The 2000 miles shoreline is breathtaking and exploring the slot canyons on your stand up paddle board is one of the best adventures you can have. It's a good place to spend your vacation. You can easily spend a week exploring the place and still want to stay. 
Utah is one of the best places for a paddle boarding enthusiast to live in. YOu can find different places providing different stand up paddle boarding experiences. When you are in the mood for a leisure day, Highland Glen Park is there for you. If you want to experience the beauty of nature, go to Mirror Lake. If you want a SUP adventure that's like nothing else, head to the slot canyons of Lake Powell. For lovers of paddle boarding Utah is one of the best destinations to look for diverse paddleboarding experiences. If you are a traveler, next time when you finish paddle boarding in San Diego or Hawaii, be sure to put Utah on your list.
---