Top 8 Spots For Stand Up Paddle Boarding in San Diego | Goosehill SUP
Stand Up Paddle Boarding in San Diego
San Diego has been one of the biggest tourist attractions in California.
And when it comes to paddle boarding San Diego is also a place you shouldn't miss.
In San Diego paddle boards can be spotted in a lot of different places.
The mild weather throughout the year, the beautiful harbor, and extensive beaches make it one of the best destinations for paddlers.
Here are several hotspots in San Diego for paddle boarding.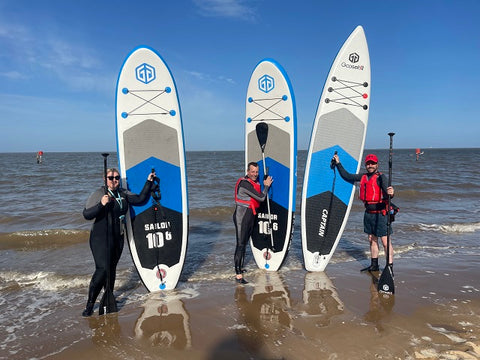 Want to go paddle boarding in San Diego? Get yourself a nice inflatable SUP board first. If you are a newbie in SUP, the Goosehill Sailor inflatable paddle board would make a fine beginner paddle board for you.
1. Mission Bay
Your day at Mission Bay might entail a roller coaster ride if you'd like, nice calm waters to ride on, and a lovely view of the boardwalk. If you are just learning how to paddle board, this would make a great place for newbies like you. This location is a mere 15-minute drive from the San Diego Airport and you'll have parking access in close vicinity to the boardwalk.
2. Shelter Island Shoreline Park
In San Diego paddle boarding is as easy to do as swimming. A nice SUP spot can be found in close vicinity to the urban area of the city. This location is close to downtown San Diego, although a bit further away than Tidelands Park. Being further out from the city, you get undisturbed sea views and a clear look at the horizon, perfect for catching sunrises and sunsets. The waters are calm and inviting for paddle boarding. You can enjoy a relaxing day right on your inflatable paddleboard here.
3. Tidelands Park on Coronado Island
Coronado Island and its surrounding locations are perfect for a paddler's day out. You will be surrounded by miles of flat waters (an added bonus of no rocks or reef), breathtaking views of the San Diego city skyline, and the Coronado Bridge. Miles of sandy shores stretch out and you can enjoy a picnic after a long session of paddle boarding. An inflatable paddleboard is all you need to enjoy a wonderful day on the water.
4. Lake San Marcos
Lake San Marcos is one of the best places in San Diego for a relaxed day on the water. This destination easily wins the most scenic SUP boarding spot in San Diego. Surrounded by rolling green hills and miles of outstretched flat lake water, it's a hidden gem. Lake San Marcos is the only lake in the county that has calm enough waters to paddle board. If you like tucked-away gems that aren't crowded, you must visit this location. Note that Lake San Marcos is private. You will be charged $15 for a day pass and you are not allowed to bring your boards to the lake(Updated on 2020-11-05). 
5. Agua Hedionda Lagoon
Located in the northern part of San Diego, the three-mile coastal wetland adjacent to the Pacific Ocean is part of the larger Carlsbad collection of lagoons. Getting to the destination is pain-free as the I-5 freeway traffic is friendly and parking is available close to the beach. Here, you would be able to enjoy the leisure paddle boarding experience on flat waters, the diverse surrounding flora and fauna, and a fresh seafood dinner at the end of your day.
6. North Beach (Del Mar dog beach)
If you want to bring your furry canine friend along for the sun and water adventure, the Dog Beach in Del Mar is perfect for just that. You can spend a nice day on an inflatable SUP board with your pet or let them run free, chase birds, and frolic in the sand.
7. La Jolla Cove
Considered the ideal destination for all water sports, La Jolla Cove is an all-in-one experience. Not only do you get to paddleboard on calm waters, but you get to see caves surrounding the water and a teeming aquatic life beneath your board. You can follow kayaking routes on your paddleboard where you will be moving along the coastline and towards the caves and loop back to your start point. Expect to see leopard sharks, sea lions, and yellowtails in their protected ecological sanctuary here. If you are a beginner, you can consider starting your very first paddle boarding session in here. Make sure you get the best inflatable paddle boards from a reliable brand like Goosehill or redpaddle since a suitable SUP board can go a long way to provide you with the best paddle boarding experience.
8. Oceanside Harbor
Located on the northernmost point of San Diego County, this is the ideal spot for whale watching, stand up paddle boarding, and a wide range of other water sports to keep you entertained. The waters are calm and perfect for paddlers of all skill levels. Visit the marina after your SUP session or catch a view of whales. After the SUP session, you can directly grab some food at the nearby Jolly Rodger.
Best Time to Visit San Diego
The weather in San Diego doesn't change much, it's mostly 60 to 70 degrees year-round. So if you are visiting for stand up paddle boarding in the area, you can come any time you want. But generally during March through May and September through November, the travel rates will be lower than other times and the weather is nice, so these times of the year could be great for paying a visit to San Diego. Although it's warm most of the time, it doesn't mean it's always sunny. Cloudy days are pretty common during May and June. And rain is to be expected during the winter months. So if you are not a resident in San Diego and want to try stand up paddle boarding in San Diego, you can pick the date accordingly.
In San Diego paddle boarding is getting popular very rapidly. Typically, Europe is most people's first choice for vacations and recreational activities and they might think paddle boarding in Europe is the best possible way to enjoy the sport. But San Diego really can give it a run for its money. There are a lot of wonderful paddle boarding spots in the world and San Diego is one of those spots that's worth your visit. If you are looking for a nice spot for paddle boarding San Diego won't let you down. And summer would generally be a nice time of year to pay a visit for paddle boarding. But if you only have time for a trip in the winter, check out these winter paddle boarding spots in America you can go to.
If you are a skilled paddler and interested in taking part in a SUP racing event, here's a popular SUP game for you in San Diego: 
The Hanohano Huki Ocean Challenge is one of the longest-running paddlesport races in California and has grown to be one of the top-rated events on the paddling calendar. Beginner paddlers to the Elite can enjoy a great day on the water and an equally great time catching up with the Ohana on the beach.
---