The Best Stand Up Paddle Boarding Spots in Florida Keys | Goosehll SUP
Stand Up Paddle Boarding Spots in Florida Keys
Florida Keys is the ultimate destination for stand up paddle boarding enthusiasts.
It has everything a paddleboarding lover could ever hope for: crystal clear water to paddle on, mangroves and scenic islands to explore.
One can't really oversell the Florida Keys.
But if you are visiting the place for the first time, it's not that easy to find all the good paddle boarding spots by yourself.
Without any advice or a guide, you might miss some wonderful spots on your trip.
So here's our brief guide for your trip of stand up paddleboarding to the Florida Keys. Make sure you don't miss any of our recommended spots.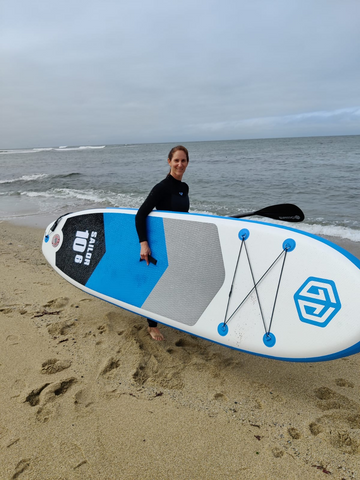 A suitable inflatable standup paddle board is key to having a nice day paddle boarding in Florida Keys. Check out our Goosehill Sailor paddle board for your SUP session.
Bahia Honda State Park
Bahia Honda State Park is our top pick on this list for standup paddle boarding. Inside the park, you can find several waterways with calm water suitable for a casual session of stand up paddle boarding or exploring. Wildlife can be spotted in various places. The beautiful beaches and crystal clear blue water are the perfect choices for beachgoers. And there are more surprises waiting for you to discover. Note that there's currently no stand up paddleboard rentals in or near the park, so remember to bring your own SUP gear.
Stock Island
Stock Island is the perfect destination for a paddleboarding adventure. The water is clear enough for you to see through the bottom and the mangroves are just magnificent. Wildlife can be spotted throughout the whole trip in the mangroves. If you want more than a causal paddle boarding session, Stock Island is the place to be. Rentals can be found nearby so it's okay if you don't bring or have your own paddleboarding gear.
Islamorada
Islamorada is one of the most interesting places in the Florida Keys for stand up paddle boarding. What's really interesting about it lies in the ocean. The water is clear enough for you to see what's in it. Things you might see in the water include an old wrecking colony, marine life like baby sharks, etc. In the nearby mangroves, you might even spot alligators. If you are concerned about exploring the place by yourself, go to Beach Bum Paddle Sports, they offer SUP board rentals as well as tours in the place.
Fort Taylor
Fort Taylor is an amazing place for newbies and people who want to relax while paddle boarding. Beaches in the state park is beautiful and perfect for launching your SUP board. You can start your standup paddle boarding trip here and hit the calm water in the ocean. The great views and the beautiful, blue water is sure to give you an unforgettable paddle boarding experience in Key West. Rentals are available in the state park.
Sugarloaf Key
For the most quintessential stand up paddle boarding experience in Florida Keys, head over to Sugarloaf Key. It's got all kinds of destinations that can suit the needs of standup paddleboarders of different skill levels. The calm water makes it easy for beginners to paddle on and exploring the Mangroves would be a nice touch to your SUP trip here.
Florida Keys is a great place to check out if you intend to go paddle boarding in Florida. The various islands, the blue water, the massive mangroves, and the wildlife is there to offer you with an unforgettable session of stand up paddleboarding.
If you intend to visit them all, it's suggested that you get your own standup paddle board instead of rent SUP gears everytime you visit a new place. For rookies and paddlers who prefer to paddleboard casually, an inflatable paddle board would be a suitable choice. Goosehill SUP and a lot of other SUP brands offer a lot of wonderful inflatable standup paddleboards and you should be able to find one that suits your needs.
---