6 Tips for Traveling with SUP
Table of Contents
1. Get a High-quality Backpack Before Traveling
2. Protect Your Gear
3. Make Sure Your SUP Accessories Fit
4. Transporting
5. Wight Limit
6. Do Your Research
The holidays are here again. For many, this means joining millions of other travelers to visit friends, family, or getting away to somewhere warm. An avid surfer always wants to bring their paddle board along whenever they travel. While incredible portability and durable construction mean inflatable boards are made for exploring anywhere you want to go, different boards will offer you different SUP experience in a long trip. Usually a touring paddle board is the best chioce for long-distance tours. a proper touring stand up paddle board is essential for your trip and there are also other things you should know. To make your adventure pleasurable and overcome all transport difficulties, read on for some helpful tips.
Get a High-quality Backpack Before Traveling
Most inflatable SUPs already come with a bag that you can carry them in, it generally hold everything you need -- the pump, board, repair kit, and even your collapsible paddle. However, not every paddle board bag is created equal, so be sure to look for a durable design that protects your board and makes for easy carrying every step of your trip. 
Depending on the type of inflatable SUP you own and your own strength, you may or may not be able to easily carry it on your back. In this case, we would highly recommend that you pick a backpack with wheels before your trip. It allow you to carry your bag like a regular backpack or take the weight off your back and roll your SUP bag like a suitcase. Whether it be a lake or reservoir hidden in a mountain, or a beach with no nearby road access -- backpacking with your SUP allows you to do what few can or are willing to do.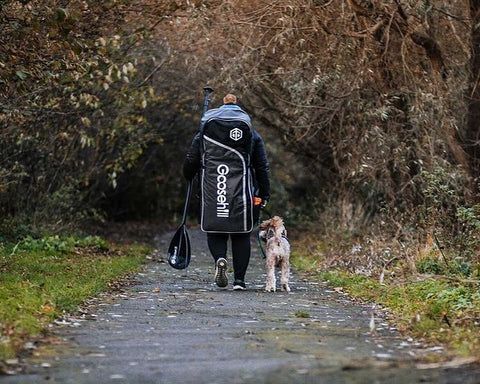 Protect Your Gear
However you're planning on getting to your destination, one crucial thing you can do to protect your board on its journey is a specially-designed paddle board travel bag. They're reinforced and padded for extra protection to ensure that your board arrives in perfect condition. 
In addition, you may want to consider separating some of the gear anyway to give them added protection. Packing accessories separately allows you to wrap each piece in a softer item to give it additional padding. Pack in your 3-piece paddle, fin, pump hose and leash around the board. Be careful not to have any protruding parts as this is what can cause damage.
Make Sure Your SUP Accessories Fit
It often gets forgotten about until the last minute, but make sure everything fits into your SUP travel bag. This step isn't just making sure everything fits, but making sure you don't forget anything. You never want to arrive at your destination only to find the air pump is missing.
 Since the pump hose is fragile, remove it before rolling your board and pack it in the bottom of a suitcase. Place the pump on top of the board at one end and start rolling the board just as you would without the pump. Use some rope, a belt or string to tie the SUP up once it has been rolled up adequately. This will ensure it doesn't unravel and you lose space inside the bag for other items. 
Your SUP fins are easy to stow away in a separate bag as well, either lining the side of the bag surrounding other items or laid on the bottom of the bag. We also recommend bring a 3-piece travel paddle whenever you fly with your stand up paddle board--it's easy to pack and takes up very little space.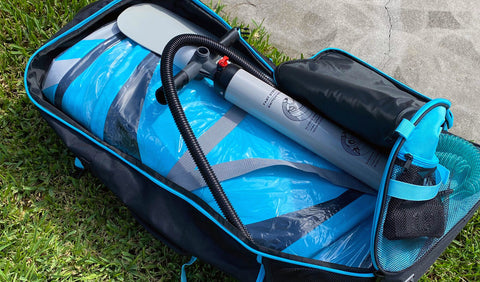 Transporting
If you're driving to your destination, taking your stand up paddle board is even easier. It's generally a good idea to deflate it and pack it inside the vehicle. While many paddle boarders leave their board inflated when taking their board by car, which will save a ton of time deflating and re-inflating the board every time arriving at a new paddling location! A roof rack works great for this, but even if your vehicle doesn't have one, you can secure it to the roof fairly easily.
You can tie down your SUPs with cam straps, ratchet straps, or bungee cords. If you can wiggle them more than an inch, you need to tighten them up. This prevents wind gusting under the board as you drive, which can loosen the straps. It's also important to get two large pieces of foam to put at the front and back of the board to ensure the board doesn't have direct contact with the top of your car.
Weight Limit
If you are going to traveling with an inflatable paddle board, you absolutely want to consider the weight of your iSUP. It may not seem like a big deal but consider that you will be lugging it with you on your way to the airport, or station as well as to your hotel or campsite when you arrive.
Fight the urge to add lots of extras to the SUP backpack while flying with your paddle board. The first thing you'll want to do is make sure you completely understand both the weight restrictions and baggage size guidelines for the airline you are flying with. When you're finished packing, check the final weight of the bag to ensure that it meets your airline's checked baggage weight limit.
Do Your Research
Do some research is crucial when traveling with a paddle board, specifically when it comes to airline travel. First and foremost, check your airline's baggage guidelines. You likely won't be turned away for bringing your inflatable SUP along. Besides, avoid any unnecessary or surprise fees by measuring and weighing your packed blow up paddle board ahead of time. 
The simple fact is that many airlines use luggage fees as a way to influence the price and make you pay more than you wanted. If you're looking forward to saving a lot of money, you must do effective research when it comes to airlines, especially if you are eligible to meet the cheaper weight requirements.
---