Where to Go Paddle Boarding in Banff National Park, Canada
If you want more of a peaceful SUP session, the Banff National Park would make a great destination. In the Banff National Park, motorized boats are only allowed on Lake Minnewanka and paddle boarding are allowed on all lakes.
So other than Lake Minnewanka, you can have a quite SUP trip in a beautiful natural environment without having to worry about being bothered by those motorized boats.
The Banff National Park includes several incredibly beautiful parks and each of them has their own beauty. You can take your SUP board out and explore them one by one and you'd be surprised by how beautiful these lakes are.
Banff National Park is never short of places for recreational water sports. If you don't know how to find out the lakes for paddle boarding near Banff National Park. Just follow our tips below to learn more about the best paddleboarding spots in Banff National Park.
Vermillion Lakes
If you enjoy the beautiful scenery of nature and a peaceful session of SUP paddling, Vermillion Lakes is the place to be. At the corner of Bow Avenue and Wolf Street, you can find the Banff Canoe Club launch where you can start your SUP trip.
Paddle along and it will take you to Vermillion Lakes soon. The water is fairly calm so even if you are just a beginner, you should be able to paddle smoothly. Public docks can be found at the First and Second Lake.
Make sure you go there when the water levels are high otherwise, you won't be able to make your way from one of those waterways to the other.
Johnson Lake and Two Jack Lake
You can access these two lakes from the Minnewanka Loop Road. There's a campground nearby the Two Jack Lake and you can directly drive there and easily transport and launch your SUP inflatable paddle board. It also has calmer water than Lake Minnewanka.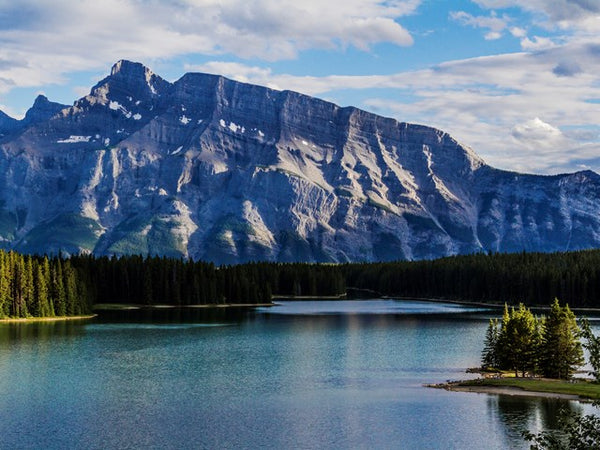 Johnson Lake has the only sandy beach in Banff and a picnic area. And the surrounding view is amazing. The best time to pay a visit to Johnson Lake would be summer because the water would be warm enough to swim in. And be sure to check the access restrictions before heading there.
Lake Minnewanka
Beginner-friendly SUP spots can be found easily in Banff, but not here on Lake Minnewanka. Since it's windy most of the time, you'd have to be an experienced paddler to be able to handle it.
Also, it's recommended to stick to the shore to ensure your own safety even if you are a skilled paddler. Parking is not a problem here. You can first find a suitable spot for launching your SUP and then look for the closest parking spot to save you from the trouble of carrying your SUP gears for long distances.
Moraine Lake Canada
On Lake Moraine you can have the surrounding majestic mountain peaks unfolding before your eyes, combined with the turquoise water that Lake Moraine is famous for, it just feels surreal.
But as Moraine Lake Canada is at a high elevation of 1883 meters, it could well remain frozen until late May or even into June. So your best shot at seeing the beautiful turquoise water would be in late June or August.
Lake Louise
Compared to Lake Moraine, Lake Louise is almost twice as big. And like Lake Moraine, it's a scenic lake and one of the places that you must visit in the Canadian Rockies.
But don't expect a quiet SUP session or to have the whole place to yourself because the lake could get pretty busy with canoes. It won't get quieter until early evening when most visitors have left.  
Emerald Lake
The Emerald Lake is just 20 minutes' drive away from Lake Louise but not as famous as its neighbor. But that doesn't mean it's not as beautiful. In fact, you can find beautiful scenery here easily, like the green hue you'll see at first glance.
The best time to visit Emerald Lake would be summer when a large amount of glacial silt flows from the surrounding mountains. And because it's at a high elevation like Lake Moraine, it will remain frozen usually from November to early June.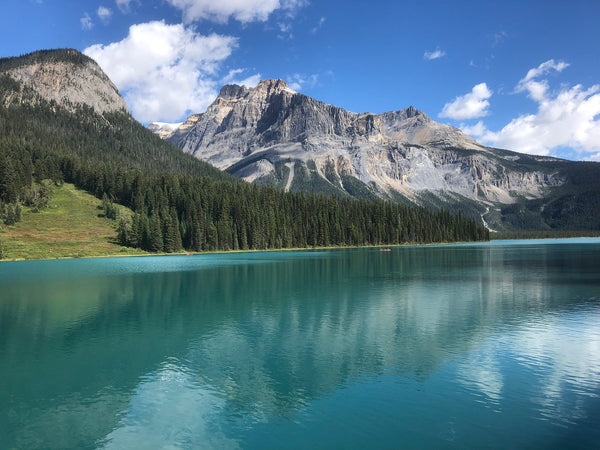 Emerald Lake is surrounded by mountains, namely Mount Burgess, Wapta Mountain and mountains of President Range. While paddling here, there's a chance you might be able to see a few birds like eagles, osprey and loons and other animals like ground squirrels, marmots, and even moose.
In Banff you can easily find a scenic lake for stand up paddle boarding. And it's one of the reasons why SUP is so compelling, you get to enjoy a wonderful time on the water with breathtaking views.
If you have yet to get your first SUP board, check out the Goosehill Sailor inflatable paddle board. It's an excellent choice for beginners as it's super light, making it easy for most paddlers to carry it to the water with ease. And it's reasonably priced at $399. It's one of the best beginner SUP boards you can find.
---